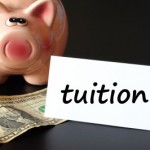 The cost of college tuition is at an all time high.  According to Bloomberg, the cost of obtaining a university education in the U.S. has soared 12 fold over the past three decades. With tuition soaring and incomes shrinking, college is becoming less affordable for many American households. As a single parent, with one  income, the dream of sending your child to college can be even more daunting. We're here to help. Below are 5 ways to reduce the cost of college.
1). Encourage your son or daughter to consider attending  a two-year university first and then completing their degree at a four-year university. Two year community colleges have the least expensive tuition, saving you thousands of dollars.
2). Have your child apply to both public and private universities. Even though private universities typically have much higher tuition, many offer great financial aid packages with grants and scholarships. When comparing financial aid packages for different schools, consider the average time students complete their degree at each school. For instance, many students attending public universities in my home state take over  four years to complete their degree. While at private universities most students finish in 4 years.  If you are most likely to pay an additional year of tuition at a public school, a private school could be cheaper.
3). Encourage your son or daughter to apply to as many college scholarships as possible, throughout high school and throughout their undergraduate years.  Students think scholarships are only available for incoming freshmen, but that is not true. There are several scholarships available for undergraduates. Also, keep in mind that all scholarships are not merit based. Many scholarships are awarded solely on your choice of major, gender, ethnicity, where you live, etc.
4). As a family, set a goal for your child to attain a paid student internship during the summer months and to put the money earned towards their tuition.  In their junior and senior year, have them look for paid, part-time internships available year round, while in school. Many times these internships lead to job offers once students graduate.
5).  Motivate your child take as many college courses as they can, while in high school.  Have them enroll in Advanced Placement (AP) courses at their high school and take the AP exams.  AP courses are college-level courses. An AP exam is offered at the end of the year in these subjects. Often universities will grant college credit for a score of 3 and above on an AP exam. It's possible to enter college with sophomore status if you've taken several AP courses and obtained high scores on your AP exams.  Another option for high school students is to take college courses offered at a local community college or through a university's extension program, such as UCLA Extension. Make sure these courses are transferable for university credit. Many courses are available in the evenings and during the summer months.
Most of all, do not consider it a failure if your child needs to take out a student loan to help fund their education. Instead measure your family's success in your ability to borrow as little money as possible.  Education pays. Overtime a bachelor's degree will pay for itself.
Related articles
An Investment in Your Future: Funding Your Undergraduate Education Through Federal and State … (education.com)
Written by Naiyma Houston