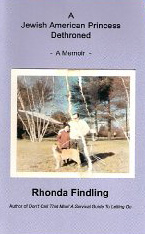 It was the late 60's: the era of civil riots and anti-war demonstrations. Rhonda Findling's father walked out on her family and moved in with another woman and her children. He chose not to pay child support, which left her family impoverished. This is an inspirational, true story of a young woman's journey to reclaim her self after the loss of her father's love.
Rhonda Findling has re-enthroned herself by writing this beautiful forthright memoir: A Jewish American Princess Dethroned. Out of a troubled family especially one with an irresponsible abandoning father as well as a panic-stricken mother Rhonda eventually emerged miraculously gaining the ascendancy in her life, and became a highly respected professional psychotherapist as well as a successful published author. She did this largely because of her intelligence, and with an iron will to stay cohered in the midst of an incoherent environment. She also made and kept an irrepressible, irrevocable self-promise to succeed. This book is an essential reminder that the human spirit to never give up is still quite alive even in the face if significant emotional and physical privations. Rhonda s life reflected in this book is a testimonial to optimism itself, and to the love of life. — Dr. Henry Kellerman, Ph.D., ABPP (Psychologist/ Psychoanalyst), Author of Dictionary of Psychopathology; and, The Psychoanalysis of Symptoms.
Rhonda Findling is the author of Don't Call That Man! A Survival Guide to Letting Go, The Committment Cure: What To Do When You Fall For An Ambivalent Man, The Dating Cure and Portrait Of My Desire. She is a psychotherapist and lives in New York.
Written by Rhonda Findling