I want you to know your value, and your worth.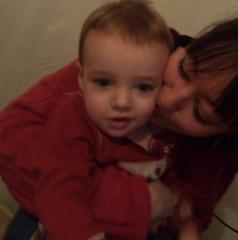 I want you to know that I didn't know your Dad too well,
but I knew that he was kind, and I knew that he was scared.

I want you to know that I wasn't.
But I understood.
I wanted nothing for you other than what you deserve.
I wanted for you peace, and love, and a place where you belong.
I have worked tirelessly to give you all three, and I'm sure I have.
but I am not a man.
I don't know how to throw a football, or work on cars, or shave a beard (although this one will surely be to your benefit ; )
I can only offer to you to share with you my own Dad, your Grandpa
A man who has taught me integrity, depth, and thoughtfulness,
A man who has been the best example of male love that I could ever ask for
A man who loves you a whole lot.
But I still have to say I'm sorry.
I'm sorry that your Daddy never had a Daddy of his own, to show him what it means.
I'm sorry if Father's Day ever makes you feel sad.
I'm sorry if you ever end up feeling angry, or lonely, or lost.
I'm sorry.
And also, I thank you.
I thank you for showing me a huge world of love within me that I never knew before.
A world reserved especially for mothers and sons.
I thank you for making me smile and laugh every single day since we've met.
I thank you for your silent forgiveness, having not yet met the world…
I will never go seek you out a dad, that's not what you need me to do.
but I will love you and care for you and throw balls with you everyday

🙂


and if a gentleman ever enters our lives that is even a portion of the man you are,
I will give him a fair chance.
My promise to you is that I will always be here.
My promise to you is not that I will love you as a mom and a dad,
but as a mom with the heart of both.
My promise to you is that YOU WILL BE OKAY.
And if you ever feel that you're not,
I'll LISTEN.
You are a GIFT to me, and you are a GIFT to anyone who knows you.
Life may not always be easy,
But nothing that's worth it ever is.
And you will never, ever face it alone.