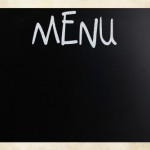 There is hardly a mom out there who has not heard the kids complain about the 'boring' 'mundane' food served. Sentences like 'it's the same food everyday', 'you always make this' are a part and parcel of mom-hood. In some cases these allegations maybe true while in other also they are partially true. No matter how good your culinary skills are, you are bound to repeat a few dishes often since you are either good at them or they are easy to make.
Planning a new menu for each week is not an impossible task and definitely does not require you to be a rocket scientist or for that matter even a gourmet chef at a fancy hotel. Below are some very simple tips that will help you to plan a new and exciting menu for each week.
Maintain a diary – The first step to planning a novel menu for every week is to maintain a dairy. We often tend to forget that we had cooked a particular dish a few days ago and therefore the frequent repetition. Maintaining a dairy will help you to avoid repetitions since you can flip back and see what was cooked on the preceding days. Put the date on top and write down what you cooked for the day in the dairy. Remember this is not a diary for recipes, instead it is a record diary where you note down all that you cooked.
Mark the dishes – Make sure that you mark the page if the dish came out nicely or not. It helps to have a few dishes marked out since it means that you know what the family liked and what was not appreciated much. There will be times when a particular kid may like the dish while another one may not like it. In this case put down the name of the kid who liked the dish, since when doing something special for that kid, the dish will come in handy.
Understand variety – There are countless ways in which you can cook chicken and in which fish can be prepared. So step away from making roast chicken every time you have guests or grilling the fish for dinner. Increase you horizon and watching cookery shows and reading cook books will help you do that. Learn up a couple of sauces so that you can mix and match and make sure that you keep substituting the main ingredient of the dish. So do not cook five types of chicken in the same week. Instead make it a mix of tofu, chicken, soya, fish, spinach, beef and eggs for each day of the week. A combination like this is what will retain the variety.
Most people tend to add new recipes in the list in order to keep maintain a novelty on the dinning table. This is only half of the solution. The complete solution lies in planning the menu so that the repeats don't occur to often. This can only be done if we maintain a record of what we cooked and also feed in the response to that dish.