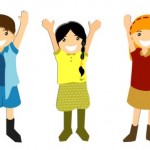 Right from thinking up of individual games to craft as well as team games, you could take your pick. Depending on the theme of the party as well as your child's personal tastes, think up of games, which are not mundane and boring. Kids do love the comfort that familiarity provides to them but still they like to learn and play new games. Try to provide them with a mixed bag of a few familiar games and a few new ones. Let us discuss the various games that are appropriate for various age groups as well as genders and the reason for these games being so apt.
1 to 5 years - These children have very short attention spans and thus will not be able to play long games. Keep the games short and simple. Make sure that intense hand eye co ordination is not a pre requisite for these games to be successful. These children have not yet mastered this art and failing to play the game well will frustrate them. Simple games like pin the tail, musical chairs, stack the blocks and penny cup will be good for this age group.  Most young girls and boys are a bit apprehensive about having too many of the opposite gender in their birthday parties. If your child is one of them then do not force gender mixing on his / her special day. There will be plenty of opportunity to meet and mix around at other's birthday parties. So if you have a under five all girls party on your hands then try games like dressing the dolls, necklace making or playing house. On the other hand, if it is boys that we are looking at, then, toy car racing, jungle gyms and other such games could be chosen.
6 to 10 years - These kids have a much longer attention span and an energy level to match. They will want to start playing the minute they come in and will stop only for the food. These kids are capable of understanding instructions and also love to learn new games. Organize games that exhaust their energy so that they are hungry by the time you bring out the goodies. If you have the option of picking games that, allow them to run around like racing, handball, hoops and treasure hunts then do go for them. On the other hand if you are in an indoor situation then plan activities that revolve around crafts and other such sitting games. Who am I (guess the animal by hearing its sound), whose got the button (guessing who has the hidden button while kids sit in a circle), paper clip chains and other such games that do not require much room are ideal for an indoor scenario.
11 to 16 years – Even though these kids are rapidly moving towards adulthood a few games must be kept handy for their birthday parties. Unlike younger children, these kids are very conscious of the clothing and appearance and so might not like to play very rough games, which can mess up their look. Most parents do not favor card games being introduced to the kids but if you like, you can do so while mentioning that gambling is definitely not a good idea. Letting the kids have a feel of card games might kill their curiosity and keep them away from casinos. Games like Pictionary, guess n draw, dumb charades do well for indoor parties for this age group. Team games like clothing relay, build a house and other such games will work wonders for outdoor activities.
Work with these tips and you will be able to organize great entertainment for your kid's party.