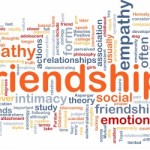 Many times we all forget to say "thanks" when others have helped us out, or gave us a helping hand. We strive to teach our children good manners and to remember to say "Please and Thank-You," however sometimes in the hustle and bustle of everyday life, we adults might forget to do the same. Maybe we are tired, cranky, or feeling drained and overwhelmed. Perhaps someone that day has done something nice for you, a kind word, a warm hug, a pat on the shoulder, or some act of kindness. It helps to be appreciative and show your thanks, because some days we all need a hug and a show of support.
When I was in the childcare field, every single day there was a demonstration of random acts of kindness. Yes, I know some people think all children, grab, pull, push, kick, scream, and act out. The truth is, children are some of the best examples for showing love and forgiveness. They might grab a toy from each other, but when you help them "use their words," they soon understand it feels better to be nice. They learn to share and offer their friend a toy, too. Little children demonstrate compassion, gratitude, and love.
When the bills come in, the food is scarce, the frustrations are mounting, look to see who has been kind to you, or has offered you a helping hand. It could be a cup of coffee, a listening ear, a gesture of friendship.
This week, find something good and positive to be thankful for. Tell your friend, neighbor, family member, daycare provider, co-worker, sibling or other, "I appreciate you." Keep in mind that difficult times are just a temporary thing, and it will get better. Many mothers are going through the same thing you are, and need an act of kindness too. It all begins here. Sometimes we all feel that we are the only ones going through a horrible situation, but we aren't. Sometimes we all feel that nobody understands how tough life is, but we do.
For all you Mother's I wish you love and happiness. I wish you good health and peace of mind. I know what you are going through, and I know some days are better than others. It begins with one simple phrase: I appreciate you. Please pass this on to others.
Article by Laurie Cesario-Overton