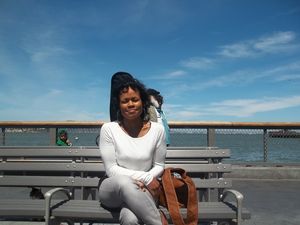 I once read "Grasp the possibilities of radical!" I was intrigued by this powerful statement.  The author continued to say "His radical for you … is just for you. Are you fearless enough to get out of the boat?"  This reference is of Mathew 14: 22-31, where Jesus commands Peter to get out of the boat and for us, it illustrates how we should step out on faith, sometimes when we are the most vulnerable; times when we are most afraid, and trust that God's got it.
My friend, Sarah, used to tell my story all of the time; how I set out to stay at home with my daughter for at least that first year after she was born. No one knew how I would be able to.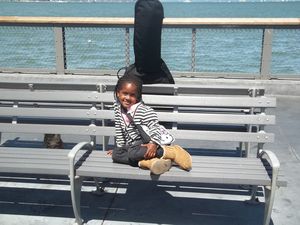 At the time that I discovered I was pregnant, I was laid off from my full time job 2 months prior, I lived with my grandmother and drove her 1998 Toyota Corolla. I began receiving public assistance shortly thereafter. While on welfare, I received approximately $300 a month in cash aid and close to $200 in food stamps.
The summer of my pregnancy, I spent most days going on job interviews, often on public transportation, registering with every temporary agency imaginable, selling old clothes and shoes for cash, and scrounging up change to buy maternity wear. I remember trying so hard to dress in layers on a job interview so that they couldn't see that I was pregnant, and in turn, not hire me. At that time, my grandmother said that I could no longer drive her car and here I was, almost 7 months pregnant, walking over a mile to get to and from job interviews.
It was a very scary time in my life because things didn't go according to plan. I wasn't married, I didn't own a house, and I had no idea on how I would be able to have anything ready once this baby girl arrived in the world. It is Sarah who now reminds me that I spoke my requests out loud to the Lord, and He made it happen. He provided a way when I couldn't see one.
I gave birth to my little ray of sunshine on December 28th, 2009 and it immediately changed my life. I was 28 years old and was ready to be the mom that combined the love and affection of my mother, the hard work and discipline of my aunt, and the stability, strength and character of my grandmother. After having my one and only child, I shut off certain aspects of my old life and turned directly to and centered my life on the Lord. By no means has the journey been easy, but having a child allowed me to put things in perspective.
My grandmother died when Reece was only three months old. Once again, I shouted "I need a place to stay, my Lord." Within a month, I was approved for a beautiful two bedroom condo that overlooked the water. By this time, I was receiving unemployment benefits and my uncle moved in with me.
As Reece was approaching one year old, my uncle went away to prison and I was left to try to keep the condo. Once again, life said, "Get out of the boat and be radical" as God urges us to do so in the moments when we are afraid.
Sometimes I'll see a picture and it takes me back to a particular time in my life where I just knew that the world had ended and I wasn't going to be able to lift my head above water. Whether it was drowning in doubt or financial frustration, or suffering from loss and loneliness, I remember those times when all God asks of us is to "get out of the boat."
And now reflecting on those moments where I had to be radical to survive, I am so thankful and overwhelmed with humility. These little "nothings" that we let bother us and make us afraid are just that… little nothings. As Maya Angelou writes, "Wouldn't Take Nothing For My Journey Now," I can appreciate it all.  The highs and lows and those fast curve balls in life force us to be radical. James 1:2-4: "Consider it pure joy, my brothers and sisters, whenever you face trials of many kinds, because you know that the testing of your faith produces perseverance. Let perseverance finish its work so that you may be mature and complete, not lacking anything."
I am now a 31 year old working mother who believes that I am raising an extremely bright, healthy, and happy little girl. The gratification in that alone is priceless When you get out of the boat; don't focus on the storm that is going on around you. Nothing is too big for the Lord to handle. He is there waiting to catch you. Keep doubt at bay and trust that calling out for Him is enough. I'm secure in knowing that.
Written by Shaunte Yvette Hill
read her blog at singlemomscansucceed.blogspot.com