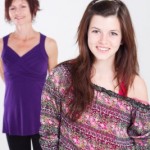 There are times when women find that life has placed them in a situation where they are on dating circuit and their kids have started to date too. This can be quite awkward for the kids and the single moms and calls for some well thought out handling of the situation. While on the one hand you do not want your kid to feel embarrassed that you are dating, it is also important that the child realizes that your dating is important for you and the child should not grudge it to you.
Some tips below will help you balance your dating life with your child's dating schedule:
Organize weekends – Fridays seem to be ideal for dates and you may be stepping out with your date, while you kid may want to do the same. It is important that you organize your weekends in such a way that neither of you has to abandon the weekend plans because of the other. In case you kid needs t be dropped off for the date or picked up, it is important that you plan your date for a later time the same evening. It would be best to discuss before the plans for the weekend and then organize them to suit all concerned.
Don't make it obvious – While you may be very eager to hear about your children's dating, they on the other hand are not so keen to know about yours. In case there is a get together when your date is present and your child's date is also there, do not go about making you relationship too obvious. A child may feel embarrassed with the fact that his/her mom is also dating a man, while he/she is also on a date.
Set rules – There are things that you can do on your dates and otherwise too that your kid may not be allowed to do. It is important that you set out these rules for your child. You may occasionally be told that if you can do it, so can she/he, but here you have to learn to play the parent card. You will have to state clearly that as an adult you are allowed certain liberties that you cannot extend to your kid. Of course it is also important to set a good example of dating in front of the kids so that they don't see you as someone who preaches but does not practice her own rules.
Keeping the lines of communication open is very important at this stage. The more you talk with the kids about this situation the better you will be able to manage it. So don't shy away from being up front with the kids and you will find they understand a lot more than you give them credit for.