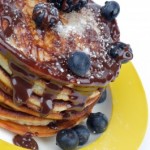 Makes 6 crepes
Crepes are surprisingly easy to make. The trick is to make sure the batter coats the bottom of the pan evenly and that your heat isn't too high. These light wraps can be used to bundle up anything from ham and cheese to peaches and yogurt to sautéed mushrooms. Experiment with different fillings and try them for breakfast, lunch, dinner, or dessert.
Ingredients:
2 large eggs
¾ cup low-fat milk (1%)
6 tablespoons arrowroot powder
1 teaspoon baking powder
1 tablespoon vegetable oil
¼ teaspoon salt
Vegetable oil spray
Directions:
In a large bowl, beat eggs with an electric mixer until pale yellow and fluffy, about 2 minutes. Mix in milk, arrowroot, oil, baking powder, and salt.
Spray a nonstick 9- or 10-inch skillet with vegetable oil spray and heat over medium-low heat. Add about 2 tablespoons of the mixture to the hot pan and tilt pan so the mixture is evenly spread over the bottom. Cook until bottom is lightly browned, about 2 minutes, then carefully lift crepe and turn over. Cook until second side is lightly browned, about 2 minutes more. Remove from pan and place between layers of wax paper. Continue until all the batter has been used.
Recipe by Peter H. Gott, MD