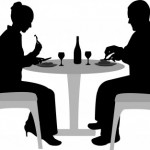 Gone are the days when you needed to learn how to hold your soup spoon and which fork to use with which course. Today things are a lot more informal, and even those, who attend red carpet events can get away with using just the basic table manners. However, take these basics away and you will be shunned very quickly from social gatherings. Also since these basic table manners stem from a regards for others eating with you, they are integral to even everyday casual eating at home.
Here are some basic table manners that we must teach our kids and also must know ourselves:
Eat with your mouth closed – No one likes slurp sounds of saliva, or to look at chewed food. It is very important therefore to keep in mind that we keep our mouths closed while we chew. This means that we should not talk when there is food in our mouth, and also no open our lips while chewing. If you eat with your mouth open or talk while eating not only do you give out a repulsive look but the food particles may even fall out of your mouth. In addition to this, talking with the mouth full of food can also lead to chocking.
Keep elbows off the table - It is rude to eat with both your elbows on the table. Not only do you take up table space for the others but the posture itself is a demeaning one. Elbows on the table give out a protective vibe towards your food and tends to give others a feeling as if you are guarding your food from them. It is important to sit at the table with both elbows off the table, and eat with one hand as opposed to both.
Do not dirty the table - Making a mess on the table is something only a toddler learning to eat can get away with. It is important to not mess the table while you eat. A messy table is disgusting, and can also foster germs. Never over fill your plate so that it spills when you put it on the table, or while you eat. In case there is a spill, it is important to clean it with the napkin immediately.
Ask others before taking the last helping from a dish - Another important table courtesy is asking the others if they would like some, before you finish a dish. While this is not a matter of hygiene, it is a basic courtesy. By asking others you give them regard and show a willingness to share your food as opposed to coming across as a greedy person just looking to gobble up everything he/she can.
These are some very basic table manners that go beyond a particular nation or culture. Almost everyone all over the globe adheres to these basics and it is important to keep them in mind while you are eating your food. So irrespective of whether you eat with chopsticks, spoons, forks or even use your fingers to eat, do keep the tips above in mind.