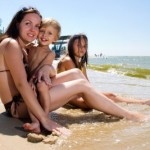 Summer is here and the beach begins to call out to us. Those of us who are lucky enough to get to the beach will find that if they don't keep certain precautions in mind, what was supposed to be a fun time, turns into a disaster. These precautions take on and even more important role when we plan to go to the beach with kids, not that they should be overlooked by adults either.
Some important beach precautions are discussed below:
Sun screen – Going off to the beach without a sunscreen is almost like driving a two wheeler without a helmet or a car with the seat belt. Sun screens are important not only for cosmetic reasons but can actually keep your from some serious medical problems. Those of us who have suffered sun burns know for a fact that the peeling skin can get to be quite a huge problem and pain for days to come. Apply the sun screen at least 20 minutes before you step out into the sun and keep reapplying it after every dip in the water. Choose a sun screen with an spf (sun protection factor) above 30 at the very least.
Footwear – The feeling of waking in sand with the sea water washing your feet is indeed lovely, but imagine having to walk to the parking lot or in regions where it can get stony and not have any footwear on. It is common for shells to wash up on the shore and sometimes pieces of glass may also be well camouflaged in the sand. Not having proper beach footwear can lead to injuries and ruin your day at the beach. Make sure the kids have flip flops or slip-ons at all times, and put them on right after they come out of the waters.
Water safety –The beach is all about the waters and while the waves are a lot of fun, they can also be very dangerous. It is important that when you go out swimming or surfing you do not attempt it on a lonely beach. Make sure to play it safe and not venture out too far and keep an eye on the kids at all times. Waves are much stronger than they look and so standing near a splashing kid is the best way to ensure that you keep the children secure.
Dehydration – Often we don't realize that dehydration is a very common problem when going to the beach. We sometimes forget to carry water and the burning sun at the beach can suck out water from out bodies in very little time. This can lead to dehydration and could even add up to a heat stroke. So when packing for the beach make sure you are carrying water with you or even a large bottle of lemonade so that the salts in your body are also replenished regularly.
The beach is no doubt a place for fun and enjoyment but do keep in mind that we are dealing with Mother Nature here and this means that some precautions are very important. The beach is not a man controlled environment and no matter how hard we try, there are always possibilities of something going wrong. Keeping precautions in mind will allow you to enjoy the beach and the waters while also given due attention to your safety and well being.