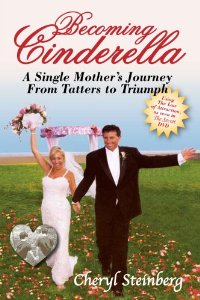 Who is today's Cinderella? Is she still waiting to be rescued by her Prince Charming, or is she now ready for conscious evolution?
Cheryl Steinberg takes us on her passionate journey as a modern-day Cinderella. She shares with us her lifelong dream of becoming a Mother, which is filled with a deep desire to connect with the spirits of her children. Her pregnancies inspire her to question our culture's conventional approach to everything from pregnancy to childbirth, feminism to motherhood, and health to education. As she embraces her maternal instincts her husband stays staunch in his conservative viewpoints, causing their marriage to completely unravel.
Despite her heartfelt intentions, her choices are harshly judged by the mainstream world. Her awakening to her new parenting choices unbelievably leads her to lose the very thing she treasures most in her life – her children. She is left broken, defeated and in hopeless despair.
As a 42-year-old single Mother, picking up the tattered pieces seems impossible. With her faith in her spirituality she courageously commits to transforming her life anew. Like Cinderella, she never stops believing that she can still have it all. She creates a vision in her mind's eye and through her own spiritual powers she rises above her dire circumstances. Manifesting her Prince Charming is merely confirmation of her own unlimited spiritual power.
As Cheryl Steinberg's intimate story shows, today's Cinderella does not need Prince Charming to rescue her. From wherever we are, each of us can rescue ourselves by using our creative powers to make our fairy tale dreams come true.
The Spirit of Motherhood: Returning To Our Senses
Cheryl Steinberg and Katarina Cerny, with music by Jennifer Berezan
The Spirit of Motherhood creates an opening for women to come together in an extremely powerful way-to find community, to support one another and to create change. Join us as we celebrate the power and value of motherhood. This audio book guides you through the sacred rite of passage known as Blessingway. Poetry and affirmations allow us to find our voices and trust our feelings as our deepest truth. Meditations and music allow us to experience the sacredness of time and the connection to our life values.
"A lovely way to re-awaken the spirit of the mother."
— Marianne Williamson
A Message from Cheryl Steinberg
Many people have asked me how long it took me to write my Cinderella story. It spans 34 years and begins with my life-long passionate desire to experience the once-in-a-lifetime journey into motherhood. The desire to deeply connect with the spirits of my children was the foundation of my personal spiritual awakening. I believe I started my initial typing approximately ten years ago after circumstances surrounding the births of my children. As part of my own process to heal these experiences, it felt right to begin to share with others a deeper wisdom that had come to me through giving birth the American way. However, since that time many unexpected events transpired and "my book" was put on hold for several years.
When I met my husband Joel, new and miraculous events began to take place. I began to share the depth of our spiritual love story with others and their immediate response was, "You have to write a book!" With that kind of enthusiasm I shifted the focus of my earlier writings. I eagerly embarked on what I thought would be a very simple Cinderella story, sharing the principles of intentional manifestation that I deliberately used to call forth my soul mate. I was well into my writing when something startling occurred to me; Cinderella had to experience tatters before she could embrace and appreciate Prince Charming as a triumphant part of her life. Like Cinderella, before I met Joel, I was in a place of terminal tatters. With that revelation, I knew my story had to include this tattered contrast that came before I met my Prince Charming.
The finished product you are reading is my memoir. It is my own personal reflection and internalization of the events in my life as I, and I alone, experienced them. It is not presented as an attempt to interpret anyone else's experience in or through my life. It is a very raw and intimate look into a lifetime leading up to my profound spiritual transformation. There are many, many layers to my story and so the audience for it is very wide. The story is rich, dense and compelling. It is educational, inspirational, transformational and invitational.
I have many intentions for sharing some of the most private aspects of my life. By your sharing my life's adventure with me I hope this book will become what I desire most, a transformational teaching tool. I hope you will be inspired to begin to question life's choices at a deeper level. This book is an invitation not only for Mothers, but for any care taker of children, to look beneath the surface and examine the choices they are making. I believe that the gift of becoming a parent has the highest potential for inner transformation. I want you to draw the courage needed to make decisions that are guided by intuition and common sense, and not merely by cultural popularity. Finally, I want to share with you the joy of learning the secrets to create an unimaginable life through the power of your creative desire. This book is for everyone who yearns to be able to take themselves from a place of tatters and use their own powers of creation to turn it around so they may experience a triumphant walk through the rest of their lives.
Ultimately this book is for my children. It contains many patches of the missing fabric in the quilt of their lives. When I became a Mother I committed to creating a meaningful legacy to them. This book and all the experiences I had along the way to having my children are that legacy.
Written by Cheryl Steinberg, Author of the book "Becoming Cinderella – A Single Mother's Journey From Tatters to Triumph"