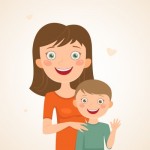 If I had to choose one sentence that would best describe what I feel parents need to learn, it would be this: Be your child's BEST ROLE MODEL in all the ways that truly count.
Be your child's HERO. Whatever you do, do it for all the right reasons.
Be patient, then teach it.
Be kind, then show it.
Be non judgmental, then demonstrate it.
Be understanding then practice this. Be a loving, guiding parent and try your best everyday.
Your child needs your guidelines and affirmations that they are unique in their own distinct way.
They need their parent to teach them, that they are valued and appreciated.
Inspire them to be creative and to follow their dreams.
They also need our realistic views on life, to work hard and to do your best.
We need to define our path clearly as parents, so that our children have what it takes to help them build their own future.
Parents need to be a parent first, and not their friend. They will have many friends in their life, but only one Mother.
These are the tools that give them self esteem, value and purpose.
Be a good Role Model.
Not the rock star. Not the sports star. Not the movie star.
Your children need YOU to be there HERO.
Article by Laurie Cesario-Overton