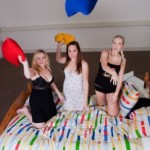 Now the kids are old enough to independently organize as well as execute their birthday plans. The role of the parent is more of a sleeping partner rather than a working one. Teens can easily be sent for outdoor celebrations and may be even left all by themselves through the party. A little caution and supervision is advisable all the same to ensure that the kids do not get into trouble.
While most teens will come up with their birthday party ideas themselves, there are times when you may be consulted too. Here are some interesting ideas for a birthday party for teens:
Girls
Hold your horses and pull the reigns tightly. These girls are now young women who are very rigid about their choices and will not stand being embarrassed by you. Birthday parties thrown in consultation with the birthday girl work better at these ages, however, if you do wish to surprise her do make sure you know your daughter's latest fad. Choosing a theme, which is passé, will most definitely land you into trouble.
Pajama party - A sure shot winner is the sleep over pajama party. Keep the numbers small so that the girls can accommodate into a single room.
Theme parks - These girls also do well in restaurants and outdoor places so choosing say Disney land as the theme and actually visiting such the theme park will also work well.
Fashion theme - A fashion week theme will also be successful especially for the teenagers who are just dying to show off their new purchases.
Mall- A day at the mall will also work fantastically and the girls could get something to eat from the food court itself.
Boys
Throwing a birthday bash for your son will need you to roll up your sleeves and search for the best themes out there. Boys have a heightened sense of adventure and so appreciate themes where the decorations might not be plenty but there is immense room for play. Now is the age where your could plan an outdoor activity as a theme for your son. These boys are capable of following instructions and can look after them selves and so are not a liability if choosing an outside venue.
Harry Potter – This one does well but do not keep it kiddy. Bring in the more realistic props when following this theme and if possible you can have a screening of the one of the flicks too.
Go Kart- Take the kids for a Go karting spree since they tend to have a lot of fun here given that by now most of them can take on the big wheels of the karts.
Soccer game -  Take the party to the game instead of bringing it home
Pool party- If the kids are old enough to handle themselves, organize a pool party for them but do make sure that you have enough supervision.
When organizing parties for teens avoid themes, which are childish; do not embarrass your child. Try to advise and give your two cents to somehow be involved.