Christmas and Valentines just passed and it's that time of year again—Birthday time! Your budget is tight but you want to make your big boy or girl feel wonderful on their special day. Here are some ideas on how to not break the bank, again, during this birthday celebration.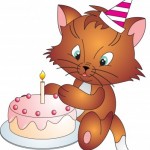 The first thing to do is to set a budget. A simple party budget with food, cake, decorations, activities, party favors can range from $50-$300 depending on what you want to do. When making that budget, keep several things in mind—is this necessary, will my child remember this, and can I afford this? Your three year old will not remember if you spend $60 on her birthday dress, but your 13 year old probably will. The same goes for the cake, decorations, and activities planned. Plan your budget according to what is important to your child at the time. At a party for a 1 year old you do not need to rent a $150 bounce house, while a 5 year old's party would really enjoy one. And be sure to stick with your budget. You will be less stressed out and enjoy the party more, knowing you don't need to pawn off your middle child's game system to pay for this party.
The invitations are the first thing that your guests see and the one thing you will probably scrapbook or save to remember this party. Focus a bit of time on this project and to save money consider making your own invitations on your computer and printing them out on cardstock. Let your birthday child create their own. If you create a 4×6 invitation you may even be able to print them at your local store for .10 a print in the photo lab with a nice glossy professional look. To save even more money, pass the invitations out in person, instead of mailing them. Also popular these days are e-vites, a simple website will generate an invitation and email it to your guests. This also provides them a quick easy way to RSVP and they will be sent reminders before the big day.
The food and cake are sometimes the most stressed about parts of a birthday party. If you time the party right, midday you can avoid providing a meal for guests and just offer snacks. Other parents will appreciate a wide assortment of treats ranging from healthy to sugary indulgences. Stay away from the costly and fattening chips, dips, punch and cokes; instead, have some fruit and veggie snacks in fun shapes with some juice and refillable cups. The Cake—now some parents refuse to give in to a box mix and if you can afford it in your budget to splurge on a professional decorated cake then do so. Just be sure to use it as the centerpiece and take those pictures to make it worth the big bucks. When trying to save money a Betty Crocker yellow cake with some fudge icing will make the kids just as happy as the bakeries fancy cake. Make cupcakes and put a few treats on top. Remember that no one goes to a child's birthday party expecting a gourmet meal-keep it simple!
The decorations can be one of the most memorable yet expensive parts of a birthday party. Choose a simple theme that your child likes that you can easily find items for in local stores or online. Skip the themed paper plates, napkins, and invitations. By using plain paper products you can save up to $40 for a party with 10 guests. Do buy the themed party hats, balloons, and party favor bags. That is just enough cheesy theme to not be overwhelmed. For table centerpieces, considering making your own—flowerpots, balloon flowers, wrapped gift boxes, etc. Streamers change the feel of a room and only cost $1 a roll so let your kids go crazy with the streamers! Keep the decor simple because you will be the one cleaning up the mess later!
Party favors while traditional in some areas and cultures are not as popular in others. Ask other parents what they have seen or done in the past. If it is not expected skip it and if it is commonplace in your area then give something simple but fun. This may be where a big part of your budget goes, but remember each guest likely brought you a gift, so it is a parting gift as a token of appreciation. There is no need to fill a party bag with candy and plastic trinkets that break; instead fill a treat bag with one item from the $1 aisle from any store-for girls think nail polish or bracelets, for boys think puzzles or balls, etc. Remember to only invite the guests that are on your list as most special in your child's life.
For games and activities to stay on budget first consider where to have your party. At a franchise pizza/game place there are expensive party packs but there is no need for you to purchase the party pack costing around $7 a person or more. Instead invite your guest and tell them you will be buying the pizza but games are on their own. To save even more money have the party at home and do some old fashion games many children haven't done before—horseshoes hide and seek, pin the tail on the donkey, board games, face painting, etc. For the older children you could create a scavenger hunt or set up an obstacle course. Think outside the box and don't break the bank.
There are times of the year when living on a budget are harder than usual and you don't want your children to have to miss out because of poor planning. Plan in advance to save money for your children's birthday parties. You will be happy when this time of year rolls a round because it will be less stressful and more about your child's wonderful day of birth and growing up.
nv