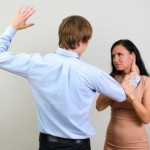 All marriages have their share of ups and downs. This is the thought that kept me going despite the fact that I knew very well that I was in a violent marriage. I got married at the age of twenty two and my husband was in the merchant navy. He was a good nine years older to me and I was absolutely smitten by his charm when I met him. We dated for about two months and then went on to get married. The first two years were good and then came along Molly, our first child. From then on it began to get rough.
Four years down the line and with two kids in the house I would hyper ventilate even when my husband called from the ship. His stay at home was marked by bruises all over my body and right from verbal badgering to physical abuse, I faced it all. I would constantly tell myself that the kids were well provided for and that soon he will calm down. I also tried to avoid any sort of conflict and would just pray for the months to pass before he would go back to sea.
But much against my hope, things just kept getting worse. I knew I had to get away but there was nothing I could do. I did not have a job and there was no way I was giving the kids up. My father had passed away when I was seven and my mom was my only pillar. While initially she would encourage me to stick on, in time she began to talk to me about options. My mother is a strong woman and one who raised three kids by herself. She would keep saying that if she could do it, so could I.
I was not too keen to see a lawyer and did not even know where I would be able to find one without making things too obvious. The shame and the guilt kept me from seeking out a women's cell since I was just not sure I wanted anyone to find out about my situation. The fear that I will be a single mom and will have to look after the kids all by myself was overwhelming. It was this fear that made me join a few single mom forums and look up some sites for in single moms. And interestingly the way out of my problem also came from one of these sites.
While reading some single mom articles I happen to hit upon a link where a lot of information about domestic violence and victim assistance was detailed. I read through the section and detail and then went on to http://www.singlemom.com/family-domestic-violence/ . It was here that I found the phone numbers where I could call about my problem. There is a domestic violence hotline where one can call 24/7 and not only do they look into matters of emergencies but also help victims of domestic violence with planning resources and safety etc.
I called the helpline and explained my situation to them. They offered me a host of services. Right from seeking therapy to looking at options for my safety and the well being of my kids to even helping me with lawyer options, they did it all. When my husband got back I told him that the abuse had to stop and if he would hit me again I would be forced to leave him. Not only did he hit me there and then but also said some nasty stuff about how I had nowhere to go. This is when I used the helpline number once again and within a matter of minutes we had the police at my house.
I will not deny the fact that the kids did see their fair share of fighting that evening. I filed immediately and my husband was told to stay away from me. The divorce took a few months to come through and my ex did not hang on to it for too long since he wanted to get back on the ship also. For about three to four months we went through turmoil but then it calmed down. Once the divorce came through and I got full custody, things began to fall into place. I was able to go through the day without worrying about small things that I did or said. The kids also felt much happier now that their mom was not crying through the day.
I do wonder how my life would have been if I had not called the helpline that day. I had not felt safe in years and with just a few simple guidelines they were able to assure me that I did have options. Every time my ex would keep telling me that I better not try and be too smart since I would be on the streets without him. It was the lady on the helpline that helped me see that I was not alone and that there were a lot of provisions in our country to help women like me.
Even after my divorce the National Domestic Violence services helped me to settle down and gain control of my life. Since my ex was a captain I was able to get good child support and alimony too. Financially safeguarded, I went on to take a job which allowed me to work while the kids were at school and also be there for them when they needed me.
No one deserves to be abused. As women we have to learn to fight for our rights and explore our options. Never make the mistake of presuming that you are staying in a rotten marriage for the sake of the kids, since it is these very kids who you will damage if you continue to expose them to abuse.