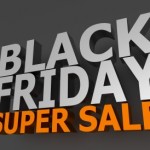 Some of my fondest memories from when I was a teenager are gathering with my mom, aunts, and grandmother on Thanksgiving Day to look through the Black Friday sale papers making lists of what we planned to buy at each store.  The next morning, we'd head out early to shop, some of us picking up things for others, and being done shopping by early afternoon.
Of course, that was when I was a teenager.  As a mom in my very late twenties, my kids have replaced all of that.  I still look at a few sales online, but I haven't gone out Black Friday shopping since I was about 22 years old.  Instead, I now drag my children around house-to-house on Thanksgiving Day to visit with my grandparents, my divorced parents, and my children's grandparents on the other side of the family.  I may get to look at a sale paper briefly, but I don't go out to buy any of the sale items anymore anyway.
Occasionally, one of my relatives will still go out solo and pick a thing or two up for me, but I no longer even have the time to make a list on Thanksgiving like I used to do.  Things have changed alot since I used to go out shopping though.  Just yesterday, I viewed tons of Black Friday sale papers online.
With access to the sale ads earlier, I do have time to plan what I'd like to buy, even if I have to shop for it online.  That sure beats making a list on Thanksgiving, adding the total, figuring in tax, and trying to work a reasonable budget in less than a day.
To be honest, I haven't really found much in the sale ads so far this year.  K-mart had some furniture I'd like to buy, but I really doubt I will.  I'm holding out hope that Kohls.com and Amazon have good sales.  They are two of my favorite online retailers.  The Kohls ad is supposed to come out on the 18th, so I'll still have time to plan ahead.  I'm not sure about Amazon.  I'll just check my wish list there and see if any of the items on it got marked down.
I do miss going out Black Friday shopping, but I wouldn't trade the time I get to spend with my kids for all the shopping in the world.
Article by Randi Millward