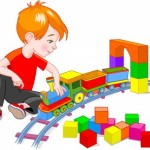 Buying toys for children is no child play. If you have stepped into a toy store recently, you know this to be true. Buying toys for kids can be a very tedious job. There are a few things we need to keep in mind when selecting toys. Not only do we want safe toys, but also useful toys, toys, which help our kids in their development. The wrong toy could end up damaging the kid instead of contributing towards the development.
Here are a few tips to keep in mind when selecting toys:
Safety - The very first thing to consider when buying toys for kids is their safety. The toys must not have any sharp edges that can hurt the kids. The toys cannot have poisonous paint, or very small parts, which can pose as a choking hazard. Anything that can pose as a potential hazard for the child should be avoided no matter how interesting the toy is.
Age appropriate- Picking out a toy that is age appropriate is very important if you want your child to enjoy the toy, and if we intend the toy to help with the development of the child. So while a skipping rope will be a great toy for a 6 year old, it will be a useless and even dangerous toy for an infant. Most toys in USA come with age range noted on them, and this helps one to judge if the toy will be age appropriate for the kid in question.
Interest – Another important point to consider when buying a kid a toy is the personal interest. If the kid is interested in cars, then it will work well to buy under that theme. Of course this does not mean that you buy 'only' cars but whatever you pick out must interest the child enough to hold her attention during play time.
Challenge - Toys are also tools that help children learn something new while playing. It is important to buy toys that offer the kid some sort of challenge. A toy that stimulates the child cognitive and physical abilities is definitely a winner. While all toys are challenging to kids at some level, it is important to pick those that will challenge your children in the right measure. Thus kids can learn skills with the appropriate effort and not get frustrated or bored too easily.
Children need toys, and while these toys do not need to be expensive, they must be well thought out. The next time you set out to buy your kids some toys, keep the tops listed above in mind. It will make choosing toys easier.