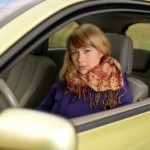 Even the thought of car shopping for a single mother can make her head spin, but being able to negotiate the car buying process is essential. It is a fact that men have more experience and an edge in the showroom, so be prepared with these tips before you go buy your next car.
The first step is to know what you want. Start by browsing the internet and talking to other moms about what cars best fit a single mother's needs. Compare prices and investigate features and see what people are actually paying for what you are interested in. Do you need great gas mileage, best safety ratings, more cargo space, roomy interior, entertainment options, and of course a sexy exterior is on your list? You also need to consider costs for repairs—a used car may have many repairs and no warranty. Determine what you will be paying for insurance as well. With gas prices on the rise, fuel efficiency may need to be a key factor in your decision. Have a good idea of the type of car you want or need, including features you want and price. Do your research so you can negotiate hard.
When deciding on what you want and need think about the ages of your children. If your kids are in car seats now remember that in a few years they will have very boney knees that may dig into your back seat and sharp elbows to poke their siblings. Kids grow up to be in sports and activities and cargo space will be needed. As a single mom you may also car pool so that third row may be needed. Some features to consider that may make life as a single mom easier are LATCH systems for car seats, DVD players, third rows, go and stow seating, automatic windows, cup holders, and leather interior (think vomit on a road trip). Although cliché as the typical a mom mobile, the minivan has its many perks so be sure to test-drive at least one.
With your budget determined, get your financing pre-approved through your own bank or credit union. You are far more likely to get a better rate of interest through your own place than through what the dealer offers. Credit history matters — if you have bad credit, it will be difficult to secure a loan but it may be possible if you put a large down payment. Stay away from co-signing if at all possible. By going through the financing first you will know your budget when you walk onto the car lot and cant be suckered into a more expensive car. This also shortens the length of your stay and you will get home in your new car much quicker.
One of the most important tips we can give is to take a friend, preferably a male friend who is car savvy. The dealer is less likely to eyeball you as an easy sell and there may be less haggling. Your friend can also keep you focused on what your listed needs are and what your set budget amount is. Be sure to shop at several dealerships and see what is really out there as far as good deals go and never buy a car on the first day. Go home and talk it through and think about it. No matter how nice the car or how "limited" the offer might be, walk away and wait to see if it feels right in the morning.
Bypass the car lot all together and consider "for sale by owner" options. Because they save money by selling themselves, owners can pass that savings on to you. You don't have to have the cash to pay up-front and can ask about handling a lien through the local courthouse. The owner can determine the amount of the monthly payments and the interest owed. Many times this is a great deal for a single mother.
As a single mother you have a lot of places to go and people to see. You deserve to do it in a safe, reliable vehicle. Following some of these tips can get you off to a great start in the car shopping process.
nh