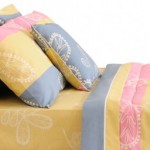 The holiday season is a time to travel and meet up with friends and family. This is also the reason why the holiday season often brings along house guests too. As hosts it is important to make these guests feel comfortable and welcome. Since house guests stay with us for much longer than a dinner party guest would, the effort in caring for such guests is more.
Here are some tips that will help you in looking after your house guests without breaking your back in the process:
Provide personal space – It is important that you provide your house guests with their own personal space as far as possible. So if you have just two bedrooms between the kids and you, it will help to give them the kid's bedroom and have the children bunk with you for those days. The private space allows the guests to unwind and relax comfortably and thereby feel at home.
Give them the spare key – Another gesture that will allow the guests a certain comfort level is giving them the spare key. The key will allow them to come and go as they please and it will also mean that you will not have to stand in attendance to them while they go about their activities.
Attention to detail – When you have house guests it is important that you give attention to detail and provide whatever you can to make the guest more comfortable. Right from some magazines on their bedside and a bottle of water to placing to placing small sized personal shampoos in the bathroom aside from the clean towels – everything will help show the guest that you have made efforts to welcome them.
Meals and housekeeping – While the guests are around, you should try and serve them as well as you can at the dining table. If the guests are having their meals at home, do make sure that you prepare the food according to their tastes. Keeping the house clean and free of clutter is also important when you have house guests. An untidy house and poor quality meals will make the guests feel unwanted and uncomfortable and ruin their stay with you.
House guests will stay with you and get to see your day to day life. It is not like hosting a party and having the guests see the best side of you for a few hours. So unless you are comfortable opening up your house to the guest in this way, do not have house guests. Remember, it is better to refuse and have people make other arrangements rather than invite them over as houseguests and then ruin their visit as well as your mood. If you have opened your home to house guests, keep the tips above listed in mind and enjoy the time with your guests and walk that extra mile to make sure they have a good time in your home too.