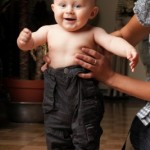 I never identified with the 'motherly love' syndrome. I was clear I did not want to have kids and so when Mike and me decided to move in, it never stuck me that we should even bother getting married. Then Mike started talking about having a baby and a traditional wedding and I was so comfortable with him that I gave in. I mean how hard can this motherhood thing be right and Mike was a wonderful with kids. We had David about a year after we officially got married and named him after Mike's favorite footballer. The first year was easy, I had quit my job at the hotel and Mike was managing the financial angle pretty well. Then in a flash, everything changed.
Mike was walking back home when he was hit by a speeding car and that was the end of my perfect world. David was 14 months then. We had some money saved up and got a decent sum from insurance also but I for the life of me did not know how to raise David all by myself.
Right through the funeral I kept thinking what I am going to do with David. I had no family as such to call upon and Mike's mother was way too old to help us in any case. I knew I would have to get back to a job soon enough and with a hotel management degree at hand, I was sure I would find something if I looked hard enough. But for the life of me I did not know what I would do with David. Caring for the child I never thought I would have and that too single handedly was not something I was having ease with.
Once things had settled down a bit after Mike's passing away, I realized that managing David all by myself was not going to be easy, especially when I had to get back to a full time job. I began to look up child care options. I wanted someone who would be able to care for David right through the day while I was at work and then also for an hour after I got home. In the hospitality industry everything does not work within the 9 to 5 frame and I knew that I will have to put in a lot of extra hours from time to time. This is why I was keener on a full time lady who could live with us.
Though I knew what I wanted I have no clue where I was going to find it or also how much it was going to cost me. I was sure I would go through an agency where I was given the assurance that the child care provider was trustworthy and certain guarantees were taken. I told friends and neighbors what I was looking for and also spoke to some day care centers about my requirements. Even after a month, I could come up with nothing.
In the mean time I had applied for a job and managed to get one in a hotel about half an hour's drive from home. I had to start work in fifteen days and was getting paranoid about the child care situation or rather the lack of it. In my desperation I began to search the net and surprisingly came up with some great options.
http://www.singlemom.com/child-care-aware/ is a link every person looking for child care should go through. They had some very good information that parents need to know in this regard. Interestingly there are many links listed here that will help you to find good child care providers too. There is the Child care 101 link which has some good information and it was here that I found some dependable organizations that worked in my case.
The first provider did not go very well for us and after a month we changed again, but since then I have had the same lady. Having someone care for David while I am at work helps me keep my sanity and job too. Like I said the natural maternal instinct in me was missing but after having David things changed. There was no way I was leaving him in a day care all through the day and if I had not found proper child care that would have been my only option.
Being a single parent is not easy, hell being a parent itself is not easy, but single moms definitely have the worse end of this deal. I often go through the information on http://www.singlemom.com/child-care-aware-of-america/ . It helps me stay aware of what my options are. Since we have a full time lady now I find I am able to get to work, enjoy being with David and also find time for myself, which as a single mom is indeed a huge feat.
Of course we miss Mike every single day, but having some help with David and having a job to get back too helped me pick myself up and move on. Having a child is a huge decision and one which will change your life forever so make it very carefully. Today David is my world but just a few months back I was going mad with fear and even holding him close was scaring me to death. I would look at him and see an unmanageable task and it would worry me sick. Thankfully, we found out sanity and today David has crossed his second year too. I know for a fact that things will get better over time, but ladies for me having a child was a life changing decision and I urge everyone else to make it very very very carefully.