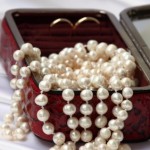 Most of us own some jewelry and more often than not it is a mixture of authentic jewelry and them some eclectic jewelry pieces. While the latter is not as expensive as the former, both types of ornaments need care. There is no question that authentic jewelry does demand more intense care since it is more expensive. In any case, if you want your less expensive jewelry to last longer, it is important to lend it the same kind of care.
Some tips here on how to care for your jewelry:
Proper storage – The first step in caring for your jewelry is to store it properly. A lot of us will put our jewelry in a pouch and stuff it into a drawer or a box. That is not good. Storing the jewelry in this way only increases the chances of the link breaking or loosening and even worse could lead to a gem falling off as well. This is why it is important that you store your jewelry in the right boxes so that they are not exposed to unnecessary pressure.
Proper cleaning- Another important aspect of jewelry care is cleaning. It is important to remember that every time we wear jewelry, we tend to dirty it a little and therefore it is important to clean your ornaments periodically. Just as it is important to remove the make up from your face once you get back home, it is also important to remove any traces of make up from your jewelry. Leaving them as is will damage the jewelry in a short period of time. Also do not use abrasive chemicals to clean the jewelry since you may be wearing it off further.
Proper usage – We often tend to forget that we need to be careful when we wearing jewelry while going about running our everyday chores. When wearing jewelry it is important to avoid exposing them to damaging chemicals like bleach, turpentine and even ammonia. If you work with these solutions, make sure you remove your jewelry so as to prevent damage to it. So the next time you bleach clothes or even work with a nail paint remover, check to see if you are exposing any of your jewelry to these chemicals.
Proper repair – When you find that a gem stone has come loose or a link has cracked a bit; it is time to get it repaired immediately. Getting the ornament repaired in time will ensure that you control the damage done and also ensure that your jewelry stays in good condition. A lot of gems have been lost since they were not fixed soon enough when they started to get loose.
Keep these tips in mind and you will find that your jewelries stay in pristine condition and you will also be able to enjoy them for a longer period of time.