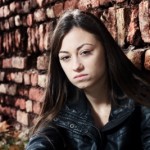 I became a mother at the age of 19 years and it changed my life around completely. For most people it was the worst thing that could happen to me, but as I see it today, things turned out okay. Please don't presume that I promote becoming a single mother at a tender age, but yes it was the slap I needed from life itself to grow into a responsible and dependable adult.
My mother was a single mom too, though in her case she was almost 30 when my dad died because of a swimming accident. She was left without much money and two kids to care for. My brother was four years older than me and I was three at that time. I can understand today how shocked my mother must have been, but even today I cannot forgive her for her sheer carelessness and how heavily it cost me.
After dad passed away there was a lot of pressure on mom. She tried her hand at a few jobs but not having a college degree meant that all she got were low paying jobs which required more hard work than smart work. She also needed to look after the two kids at home, and in her desire to find a good home again, she began to date. She took up a job at a local pub and soon began to date the owner of the pub. Soon the man became a fixture at our place. A few months later mom informed us that we would all be moving into his home.
I had just turned five and remember cutting this small cake with my brother and mom and that is the last of my good memories as a child. After this we moved into the other house and it started almost immediately. Mom and her boyfriend Alex were in one room, while my brother and I were given a room each. Mom got promoted to the cashier status and this meant that she had to be there right from the time the pub opened to closing. However, Alex did not keep these hours.
He would cuddle me a lot and get me toys and stuff and somehow absolutely ignore my brother. He would ask me to sit on his lap while watching television and then in some time I began to feel uncomfortable. Mom was happy to see him take interest in her kids and she kept saying how lucky we were to have Alex take us in. Alex was nice no doubt but he would often rub himself against me in a very strange way. Then it got worse.
The abuse continued. He would try and give me a bath almost every opportunity he got, tuck me into bed. I knew this was not right and after months of trying I finally told my mom. I expected her to let all hell lose on Alex but what happened was far from it. She yelled at me and told me to never make up such stories. She told me if I ever told anyone else this I would never see her again. My world as I knew it ended that day. Alex continued to abuse me, and I would just try and stay out of his way as much as possible. At ten years of age I ran away from home, but was bought back by the police. Alex kept away from me after that but I just kept slipping into a deep black hole. My learning abilities declined. I got involved with drugs and sex. All ended in becoming a single mom at age 19.
The first time they put my baby in my arms I knew my life had changed. I promised to myself that I would not let anyone abuse her. Knowing how traumatic that experience was, I felt that I fiercely had to protect her from day one. Despite the fact that my mom and Alex offered me a place to stay for the first few months, I declined. I told mom that she knew very well what happened to me and I would not let it happen to my daughter.
With the help of the hospital staff I was directed to a home for single moms. After the initial few weeks I had to go back to my job. This would mean that I would need to leave my baby at a day care. I remember going from pillar to post to find a good day care for her. Despite the fact that there were a few options close to my place of work I did not opt for what was more convenient for me but instead chose something that I thought was safest for my baby girl.  I had to wake up an hour earlier to get my baby to the right place but I knew that it was worth it.
I always ask my daughter if there is someone touching her inappropriately. I have told her that she has to tell mommy if anything does not feel right. My kid is in fourth grade today, and to the day I make sure that I put her safety first. I keep reading articles from the net about how to guard against child abuse, how to look for the signs and so on and so forth. While some people may think I am obsessed and over cautious, you know what I'd rather be over cautious than give in to my comfort and have my baby abused ever.