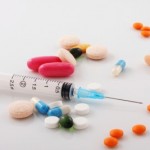 This organization provides links to other resources for prescription assistance.
Chemotherapy, or "chemical treatment," has been around since the days of the ancient Greeks. However, chemotherapy for the treatment of cancer began in the 1940s with the use of nitrogen mustard. Since then, in the attempt to discover what is effective in chemotherapy, many new drugs have been developed and tried.
Sometimes referred to simply as "chemo", chemotherapy is used most often to describe drugs that kill cancer cells directly. These are sometimes referred to as "anti-cancer" drugs or "antineoplastics." Other chemo drugs such as biologic response modifiers, hormone therapy, and monoclonal antibodies, which work in different ways to treat cancer, are included in this web-site. Today's therapy uses more than 100 drugs to treat cancer. There are even more chemo drugs still under development and investigation.
Chemotherapy is used for a variety of purposes:
To cure a specific cancer;
To control tumor growth when cure is not possible;
To shrink tumors before surgery or radiation therapy;
To relieve symptoms (such as pain); and
To destroy microscopic cancer cells that may be present after the known tumor is removed by surgery (called adjuvant therapy). Adjuvant therapy is given to prevent a possible cancer reoccurrence.
Financial Assistance Programs for Chemotherapy Medications and Treatment
In recent years – new chemotherapy medications as well as supportive care medications have become available. Some of these medications are available in pill forms that are more convenient for patients. Unfortunately, the cost of these medications can be great. Insurance coverage of these medications- that is, who covers the costs of chemotherapy – is not always clear cut.
If the cost of the medication is not covered under insurance, most major drug companies have medication-assistance programs, which will provide specific drug therapies at no cost to qualified, uninsured patients.
Types of Assistance:
Some focus on helping to determine what the patient's insurance coverage for medications and assistance with claim denials.
Some plans offer payment limitation programs for very costly medications. Once patients reach the predetermined limit the company will pay all other costs for the needed medication.
A few medication-assistance programs retroactively reimburse costs for drugs that already have been dispensed to patients.  This way treatment is not delayed and patients are not charged for medication that may have been administered prior to enrollment.
Chemocare.com
Chemocare.com provide the latest information about chemotherapy to patients and their families, caregivers and friends. They are there to help by supplementing what you may already have learned from your healthcare professional.
The Scott Hamilton CARES Initiative will promote and support world class research and quality care that lead to a cure of cancer. They will empower patients and their families via education and guidance for their journey through cancer treatment and survivorship.
How It Works
Your Patient or Caregiver Mentor, paired as closely as possible with respect to diagnosis, gender and age, understands what you are going through because he or she has traveled that same road. Their mission is to provide cancer support in a way no one else can. As your mentor, your 4th Angel will call you to share healthful and positive strategies learned from his or her own experience.
When a new patient or caregiver requests a mentor for support, the program staff facilitates a match. Through a brief phone interview, the program staff evaluates the match's needs. The best match occurs when mentors and caregivers have as much in common as possible. Not only does it make communication easier, but mutual understanding is enhanced too. Then, the program staff contacts the proper mentor and the mentor calls the patient to offer support and hope.
Any adult with cancer or caring for a person with cancer is eligible to be matched with a mentor.
Side Effects
The side effects of chemo generally depend on the type of therapy being offered. Most chemotherapy side effects cease after treatment. Although uncommon, some treatments may produce long-term effects.
Here is a list of chemotherapy side effects categories, symptoms within each category, and links to additional side effects information.
Eating Well During Chemoterapy
Practicing healthy eating habits throughout cancer treatment is essential. Staying hydrated and maintaining muscle tissue with enough fluids, calories and nutrients can reduce treatment delays, boost your immune system and help minimize debilitating side effects such as fatigue.
Navigating reliable, useful information can be overwhelming. We want to help you and your caregivers with suggestions for maintaining a healthy diet during chemotherapy. Share this information with family and friends who often ask, "What can I do to help?". You, your friends and family can all benefit from taking control of nutrition.
Contact Information
216-445-8734 or toll-free 866-520-3197
4th Angel Mentoring Program mailing address:
Scott CARES-4th Angel Mentoring Program
9500 Euclid Ave. HS1-07
Cleveland, OH 44195
Get more information on chemotherapy and the program