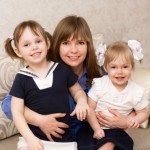 So you've had your last child and you realize its time to get back to the working field. However finding child-care doesn't come easy or cheap. Here are a few tips to keep in mind and a few suggestions while searching for a child care provider.
Don't settle with your first choice. Just like grocery shopping, if you shop around you are bound to find a less expensive item or childcare provider in this case. You can have either in-home care or out-of-home care. If you've made the decision to get back into the working field, home-care wont be an option for you unless of course you plan to have your kids stay at home while someone comes there to watch them. There are a variety of options in this case. If your child has a grandparent and they are available you may want to consider using them because they most likely will do it for free. Other siblings may be able to provide the same care. Babysitters are an option if you trust a neighbor, family friend or referral but you will have to pay. There are also moms that are in-home care providers where they actually stay home to watch their kids but take in other kids as well but basically this is like a day care and could be expensive or could be even more expensive then a regular day care center.
Out of home childcare allows for more opportunities as well as your children being able to play with more kids. However there may be some disadvantages as well. With out of home care your child has the opportunity to play with more kids than in home and their are rooms usually set up for children of certain ages so they are on the same level. The day care centers are safe, fun, and nurturing. However a disadvantage will be the germs, which will then get passed on to you. Also getting your child to and from day care may as well be a factor you have to consider while searching for a childcare provider.
Another option to consider is your employer. Some employers are becoming family-friendly with employee benefits and flexible work schedules. So if you are applying for a job, find out from the human resource department about childcare benefits. You will find that the number of companies that offer on site day care will be small but companies are starting to offer childcare assistance as a benefit. A plan that allow for you to set aside pre-tax dollars which goes towards your childcare has become standard.
When it comes down to it, you know your child better than anyone else. If you know your child isn't going to do well with other children or they are apt to getting sick, you may have to rethink some of your options. Remember, as a parent you know your child's needs better than anyone else.
Article by Kelly Kennedy