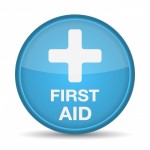 The doorbell rings and you leave your toddler playing quietly on the kitchen floor while you answer it.  No need to worry, you will only be gone for a minute and the baby will be fine, right. Wrong. Even though you were only gone for a minute, it's enough time for disaster to strike.  When you come back, you find your baby either eating/drinking a cleaner from underneath the sink or pantry, vitamins from the kitchen counter, or cosmetics and prescription medicine from your purse.  In an instant, fear and panic set in.  What do you do? Who do you call for help?
Lesson learned: Children Act Fast!
Situations like this occur daily in homes across America.  Every 8 seconds someone needs a poison center… could you be next? More than half of reported exposures involve children younger than six. Most of the poisonings reported to the 56 poison centers around the country happen in the home especially when parents are busy preparing meals, caring for other children, or completing everyday household chores. Poisonings also occur when the normal routine changes – during holidays or while moving, visiting or traveling.
Who do you call for help? That's easy…your local poison center.  The Poison Help line (1-800-222-1222) should be programmed into all cell phones as well as posted near home and office phones.
Don't panic, most poisonings can be taken care of at home with the help of poison center experts (nurses, pharmacists, or doctors).  If your child is unconscious, not breathing, seizing/convulsing, bleeding profusely, difficult to arouse/wake up, etc. call 911 immediately, otherwise call poison center experts at 1-800-222-1222. Do not wait for the child to look or feel sick. Poison centers handle a wide range of calls, even calls that aren't emergencies. Help is always available and free of charge – 24 hours a day, 7 days a week, every day of the year.
How can moms help other moms?  Spread the word that poison center experts are here to help moms protect their children. Become an advocate and urge all moms to program the number into their cell phones for quick and easy access when time is of the essence. Poison centers give expert advice fast, over the phone.