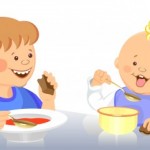 Food forms an integral part of a child's birthday party, but organizing this food is not as simple as deciding a menu for an adult party. Kids are more often than not poor eaters and the food has to be to their liking in order for them to enjoy the party.
So what exactly is the right kind of food that one should serve at a child's birthday party? Below is an age chart that will help you decide what to serve for your kid's birthday party.
1 to 5 years – Children at this age are not very adept at eating their own food. So avoid serving foods that have gravy or those, which require developed cutlery skills to be eaten decently. Another important rule to go by is small portions. Provide them with finger foods that are easy for them to hold on to and that have zero choking hazards. Slices of cucumber or boiled potato made to look like a smilie face, small pieces of brown bread topped with cheese or baked beans, cupcakes, tiny sandwiches and other such foods will do very well. Highly salty, oily as well as spicy food is not recommended for children of this age bracket. Keep the variations of the dishes to five at the most. Making many types of dishes will result in confusion in the child's mind as well as excessive leftovers with you. Make sure you provide for lemonade or other such simple drinks to these kids to wash their food down.
6 to 10 years – Bring out the cookbooks now. These children have been more often than not introduced to fast food joints. Burgers and pizzas form a part of their weekly outings. It is no wonder then that it is this age bracket that is most likely to demand a junk food on their party menu. You could hide the spinach in a corn and cheese baked dish but serving a few French fries and tiny healthy burgers is still a good idea. The good part is that most children of this group can eat on their own and noodles with vegetables and even items of gravy can be served without fear. Carbonated drinks should be avoided but there will be kids who will demand them and if you wish, you could call it an exception and offer them some. Chocolate milk, juice packs will come in handy for serving while the kids are eating their food.
11 to 16 years – Give up those paper plates now and bring in the adult food. Children of this age group like to be treated as adults. If using disposable dishes make sure that it is of a good quality. Try using break proof rather than disposable one. Now is the age where you could introduce a particular region's cuisine. Therefore, instead of a mix and match an all Chinese, Mexican or all continental cuisine will do much better. These kids can serve themselves and do not need much overseeing in terms of eating. Root beers, fruit juices and fruit punches are ideal for these ages. Remember these kids can eat twice their body weight 😉 if it comes down to that, so prepare large quantities of food.
With this in mind and you will be able to have a great menu for your kid's birthday party.