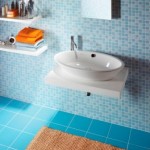 Bathrooms and wash rooms are the most important rooms in the house when it comes to cleaning. While most of us will pay special attention to the sink, the bath tub and of course the toilet, we often ignore the tiles. Apart from being cosmetically unpleasing, dirty bathroom tiles can also be very unhealthy.
Some tips below will help you to clean your bathroom tiles and keep them shiny and clean:
Home made cleaners – Instead of opting for chemical cleaners to clean bathroom tiles it will help to think of some natural cleaners. Baking soda, salt and vinegar combine to make a very effective tile cleaner and the vinegar also plays a dual role of killing germs. Simply make a paste of equal amount of baking soda, salt and vinegar and apply it on the tiles. Rub in circular motion for a minute or so and then wipe clean with a damp cloth. Make sure to apply the paste on the nooks and corners too and also on the space between the tiles. Using a toothbrush for the lines between the tiles is known to work well.
Reduce humidity - You may not even realize it but your bathroom is a humid region in the house. Right from the baths to the water left in the sink to even the water in the toilet, everything adds to the humidity levels in the bathroom. This humidity is the main reason for the mold and fungus to grow in your bathroom. These molds tend to leave a very ugly patch on the tile even after they have been cleaned. The only way our here is to reduce the humidity levels in your washroom. For this you will need to open the bathroom windows, if it is possible, or to use the absorption (exhaust) fan to extract the humidity. Always switch on the exhaust fan while in the bathroom and leave the bathroom door ajar as often as possible so that the water can evaporate and escape.
Antiseptic Mops – When mopping the bathroom, try and use antiseptic solutions that evaporate quickly. Use a dry mop to soak up the water and then throw some antiseptic on the floor and mop again to clean the area fully. This will ensure that any fungal growth on the tile is cleaned out instantly. Most of us use a wet mop to clean the bathroom tiles and while this does remove the dirt, it leaves water on the floor and this gets between the tiles and causes molds.
Keeping the bathroom tiles is no rocket science and while there are a lot of chemicals available to clean the tiles, it is best to stick with the natural non chemical cleaners since they do least damage and maximum good.