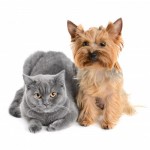 Pets are a great source of affection but sometimes they can also be a great source of allergies. Dogs head the list as far as shedding goes with cats following close behind. Cleaning up after shedding pets can be quite a nuisance and in many cases one of the main reasons why we avoid bringing thee pets into our homes and lives.
However, there are a few tips that can make cleaning up after a shedding pet much easier and thereby allow us to enjoy our pets with greater ease. Some of these tips are listed below:
Lint Rollers – Sofas, chairs and carpets are the hardest hit when your pet begins to shed and it is these areas that are pain to clean. Since it is impossible to pull hair out of these places by simply brushing them off, lint rollers come in handy. All you need to do is roll the lint roller over the sofa or chair and the roller picks up hair with ease. Brushing on the other hand damages the thread of a fabric and you could end up with a snitch that could ruin the entire sofa tapestry. There is also a small lint hand roller that can be used in case you get the pet hair on your coats, jackets and other garments.
Pet hair vacuum cleaners – Today there are pet hair vacuums available that make it very simple to clean up after a shedding pet. These vacuums have been designed especially to pick out fine hair and often come with a sweep brush also. Of course using a general vacuum cleaner will also work rather effectively. The vacuum is especially effective when cleaning the carpeting since here the lint roller does not work well. Depending on the level of shedding, you may need to vacuum your home once or twice a week.
Rubber brooms – Cleaning marble floors of your pets shedding hair demands rubber brooms. Using a vacuum cleaner will not be as effective as a rubber broom. You will be able to sweep off all the hair at one go and mopping with a wet cloth later will ensure that all the hair has been properly cleaned. The rubber broom can also be used in areas like the kitchen where the dog hair may have travelled. While the broom will not work much on the carpet, it does sweep off fantastically on a smooth floor and will come in handy if you pet is shedding.
Shedding pets should not be encouraged to get on the bed since these are the areas where cleaning the hair gets to be quite difficult. Of course changing the sheets and pillow covers is easy, however, if the hair finds its way into the mattress it could get rather tedious to clean it. The same holds true for the quilts and here too cleaning pet hair can get to be extremely tedious. If your pets' shedding is driving you crazy, simply keep these tips below in mind, and you will be able to combat the situation with great ease.