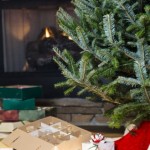 Come Christmas and New Year's Eve and we take great pains in decorating our homes. Right from the tree in the living room to the wreath on the door, everything is placed with care and attention. However, once the holidays are over, the lights continue to hang for a long time. There is no denying the fact that wrapping up the holiday decorations is not half as much as putting them up.
All the same the job has to be done and done in the right way if we are to enjoy these decorations in the years to come. Below are some tips that will help you to clean up after holidays:
Breakables – Begin by storing the breakable items first. The more you leave them lying around, the more likely they are to break. So wrap up those glass balls on the Christmas tree and other similar items in bubble paper and put them in a hard shelled storage box. It is important that you mark the box as fragile and place it in a safe area where the contents are not likely to get crushed or break due to a fall. When cleaning up after holidays, always begin with this section of the decorations.
Lights – The holiday lights need to be taken down and rolled up properly. It is important to keep these lights away from other decorations in which they might tangle. However, these lights do not need to be stored in a hard box and a simple cardboard carton will do as well. Mark the box as lights and place them on the top instead of the bottom of the storage pile. Crushing the lights could destroy them.
Tree and decorations – Now while the tree cannot be saved, the decorations will need to be stored for the next year. Put all of these in a box, label them and put them away to be used the next year. Again here a cardboard box will work fine. Once this is clear you will need to take the tree out and dump it. In case the tree is too large, you can chop it into two parts to make it easy to dump.
Festive China – Another important thing that needs to be cleaned and stored after Holidays is the fancy china. Clean it very well and then store it in its own boxes, or wrapped in bubble wrap. While the other items listed above can be stored together, it is crucial that the expensive china be stacked away separately in a safer place.
Cleaning up after the holidays may not be much fun, but if you do it right, you can save a lot of money on decorations the coming year. Of course there is the option of pulling it all down and packing it up in one large container, but in this case you are bound to waste a lot of time sorting out the decorations the next year and also a lot is damaged during storage.