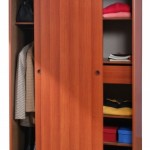 Closets have a strange way of attracting clutter. Almost all of us need to clear out our closets from time to time. Strangely they tend to get all messed up again in a few weeks. While most people presume that closet cleaning is only about organizing the clothes on racks and shelves, this is not all. There are several other aspects to cleaning up a closet; here they are:
Airing the clothes – A very important aspect of cleaning the closet is airing it out. Not only does this help to keep the closet moisture free but it also ensures that pests like the silver fish and bugs stay out of the closet. Here you will need to empty out the entire closet and leave it open at least for a few hours. Vacuuming inside, including the walls, will help clear the closet of all the dust. Remove any old paper that maybe lying around in the closet for it attracts rats and insects. If need be wipe the shelves, the clothes racks, the floors, and make sure that it is completely clean from the inside.
Organizing – Go through the clothes and other items that you may have removed from the closet. Only put back what you really need. Organize them in piles and get rid of the stuff that you think you don't need any more. There will be certain clothes that you will need to hang while others can be kept in the closet folded up. Set the clothes that need to be hung first. Then place all the piles of clothes according to your personal needs. Stack the things that you use often in the middle shelves, while the ones above and below should be used for outfits that are worn less often.
Storage – When storing items in you closet, make sure that you opt for smart storage so as to make the maximum use of the space available to you. Instead of shoe boxes, work with shoe bags. Keep stacks on top of each other. Hang belts on the closet doors. These smart storage ideas help you to not only store more stuff in your closet but also reach everything properly and quickly.
Maintaining – If you find that closet cleaning is not something that you enjoy, it is important to maintain your closet. Instead of dumping clothes into the closet, lay them out properly. Make sure that you arrange the clothes according to the setting opted by you earlier. The more effort you put into maintaining the closet the less often you will need to clean it up.
Closet cleaning is very important since it help you to organize your clothes and also ensure that no bugs get to them. If you store your accessories like shoes in your closet too, then it is even more important to air your closet out since leather can get ruined if exposed to moisture. So keep these tips in mind and clean up your closet from time to time.