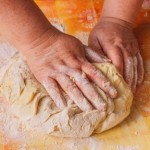 It doesn't seem that long ago, when I was cooking the family meals for my children. Since money was always scarce the one meal we had over, and over again, was home-made pasta sauce and spaghetti. It's pretty rare for kids not to complain about the same old meal, time and time again, but mine loved it. We had sit down Sunday dinners (family day), and there were usually, only two choices. My casserole dish of baked chicken, with broccoli and rice, or spaghetti and home-made pasta sauce.
Our big splurge was to bring sliced bread and jam, on the table. We always ran out of bread, as I was feeding the six of us for every meal, so that was a big treat. Spaghetti and sauce costs next to nothing to make, just a few cans of tomato sauce, onion, and spices. The packages of noodles were inexpensive and always on sale. My kids never complained about the repetition of those meals, and we treasured many years of Sunday dinners.
Comfort food is whatever brings warmth, good memories, and a sense of belonging to one's life. Whether it's baked Mac and cheese, spaghetti night, grilled burgers, famous desserts…or our Halloween nights of chili and cornbread. Comfort food brings us back to the basics of family and love. If it wasn't a memory you grew up with, you can certainly create your own, right now, for you and your children. It's not always the memories of the best vacation, the fun toys, or the coolest outfit, it can be a simple bowl of goodness and love.
Next time you are at the grocery store and in your kitchen, no matter what the meal, design your family's version of comfort food and begin your table of memories. Hugs to you moms.
Article by Laurie Cesario-Overton