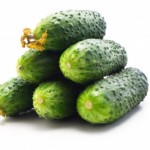 Ingredients:
3 medium cucumbers, peeled, seeded, and cut into 1/4-inch slices
1 carrot, peeled and shredded
1/2 red onion, sliced paper-thin
1/3 cup minced cilantro
Dressing:
1/2 cup rice vinegar
2 tsp. honey
2 tsp. Reduced-sodium soy sauce
1 1/2 tsp. toasted sesame oil
Pinch dried red pepper flakes
Preparation per 8 servings: 
Preparation time: 25 minutes
Marinating time: 1 hour
Directions:
Combine the cucumbers, carrots, red onion, and cilantro in a large bowl.

Combine the dressing ingredients. Pour dressing over cucumbers, cover, and refrigerate for 60 minutes. Salad may be eaten with a fork.
Nutritional Values per Serving Size: 1/2 cup 
Calories: 25
Calories From Fat: 10
Total Fat: 1 gram
Saturated Fat: .1 grams
Sodium: 50 milligrams (without added salt)
Total Carbohydrate: 5 grams
Dietary Fiber: 1 gram
Sugars: 3 grams
Protein: 1 grams
Receipe by Suzanne Ault