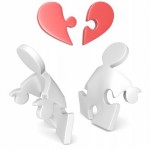 Going back to dating after a divorce is never an easy task. The dating scene has usually changed drastically and the apprehension of being rejected can be quite a damper. However, it is important that you get on with your life and get back in dating again since it helps you better your self confidence and also allows for happy moments. Who knows you may find a nice man and settle down this time for good.
Below is some dating advice for divorced moms that will help you get back into the groove:
Don't carry your grief with you – Divorce may have left you bitter and sad, but this does not mean that you have to take these emotions to the date with you. The entire idea of getting back into the dating scene is break free from the negative feeling of the divorce and move on with your life. So do not pose as a martyr when you go out dating. There is absolutely no need to curse your ex and place blame on him, since such a conversation is likely to ruin your mood as well as your dates. Stay cheerful and avoid negative feelings. Have a good time on your date and make it about yourself and your date as opposed to your former relationship.
Don't expect the world – When going back to a dating scene after a divorce, you may be desperate for some companionship and this may lead you to expect a lot from the date. Do not make this mistake. Take things one day at a time and don't go on to overwhelm your date by expecting a full commitment on day one from him. Keep in mind that going over board with your expectations can make you vulnerable to hurt once again. So take things slow and keep your expectations low.
Don't bring in the kids too early – Now this does not mean that you are not to let your date know that you have kids, however, there is no need to introduce the kids to your date. Take your time to get to know your date first. If you feel that your date has grown to become someone special in your life, then it maybe time to make introductions, if not, there is no need for the kids to be involved. Introducing your date to the kids at first go may not only scare your date it can also make your kids feel negatively.
There are no rules written in stone when it comes to dating. Each person has his/her own flavor and date accordingly. The same holds true for dating after a divorce. There are no set rules here. You will find your own niche and also what suits you the best. While the advice will usually pour in, you must take your own call and decide if you are looking to get back into dating on a serious note for just dating for fun is all that you are looking for.
ps