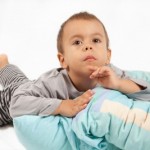 While an infant wetting the bed is not of much concern, it is the school going kid who still wets the bed that may worry most parents. Once we have potty trained our kids we tend to kiss diapers good bye and in most cases the children will suffer a mishap or two but then soon get into the habit of walking up in the night and going to the washroom in case the need arises. However in some cases, the child will wet the bed almost every night and this is definitely a cause for concern.
Below are some pointers that will help you deal with a child who has kissed diapers goodbye but is wetting the bed at night:
Understand – The first step in dealing with a bed wetter is to understand the cause of the problem. In some cases the issue can be as simple as the washroom being too dark and scary for the child wanting to go there at night. Needless to say, this can be solved in a jiffy. Then again the problem can be as complex as a small bladder or even diabetes. Here a lot will go into fixing the problem and you will require the help of a medical professional. In some cases the children may suffer from some psychological issues and here too one should seek the help of a trained professional.
Preventive action - It is of course impossible to clean up a wet bed everyday and this is why one needs to take some preventive measures. Ensuring that the child does not drink much liquid two hours before bed time is important here. Also the kid must be asked go to the washroom a few times before bedtime. In some cases kids may need to wear diapers and also a plastic pant. Keeping the child warm is also important, since the cold tends to worsen the situation drastically. There are times when the child may be administered a drug in order to combat the problem and here it is important to not miss out on a prescribed dosage.
Never humiliate - It is crucial that you make your bed wetter feel loved and cared for and never humiliate the child for the problem. Remember, no child wants to wet the bed. It is an involuntary act and if you scold or humiliate the kid, the problem is only going to get worse apart from the damage that you will cause the kid in question. Letting a child know that you love him/her and are willing to work through the problem is what is very important here.
In some cases the bed wetting will slowly go away with age itself and this is why doctors ask parents to not worry about it till 5 years of age. Consulting your pediatrician will help you judge if your child's problem is serious or not and will also help you in bringing these episodes down to a bare minimum.