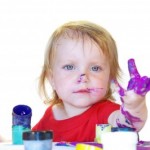 There is a reason why it is called the terrible twos. A two year old toddler can bring the entire house down. These kids have recently learnt the art of walking and so can move about freely. Their hand-eye co-ordination is developed enough for them to reach out for things while it is not enough to be able to control them with ease. They tumble all over the place and hurt themselves almost every other day. Now imagine if all of this trouble came in doubles. Yes! There is no denying the fact that managing twin toddlers is by no means the job of anyone less qualified that superwoman.
If you have twin toddlers are home, it will help to work with the tips listed below in order to keep some sanity in your life and home:
Child-proof your home – Once the twins get through with the house, they are bound to break things or worse still hurt themselves unless you child-proof your home. For this you will need to remove all objects that the child can break or get hurt with. Flower vases and other similar house decoration items will need to be moved to a level that is beyond the reach of the children. Sharp edged tables and chairs should also be covered with some protective layers. All stair cases must be gated and kept locked at all given times.
Make for a play area – Twins will often play with each other and if you designate a play room or a play area for them, it will help. These toddlers will soon fall into the habit of playing with their toys in this area and therefore you may not have to face clutter in the entire house but rather keep it confined to a single room.
Think in twos – Now is the time when you will have to take your ability to think in twos to the next level. Right from clothes to toys to even safety devices, everything should be in twos. Do not bring in a single wooden horse in the hope that the kids will share it, for it will only be a cause of constant fighting. Two of everything will keep you more in control.
Eat and sleep together – One thing that will give you a lot of time on your hands is if you feed and rest the kids together. Let them sit at the table with each other and play with finger food while you get bites of nourishment into them. Bathing and napping them together will allow you a few moments of sanity while both are resting. If you try and attack them one by one, the task is bound to become impossible.
Twins are a lot of fun no doubt, but they are also double the work and unless you organize yourself well, these children can give you a hard time. So keep these tips in mind and always remember that it gets easier that these little wonders grow up.