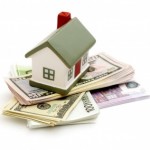 A new year is upon us.  I'm still not quite sure how it got here so fast, but it's here, so now it's time to deal with it.  Have you made any financial goals for the year?  I have.  It's looking like it might be a little more difficult than I expected, but I'm going to try my best to accomplish it.
I've got a rental house, if you can call it that while it's sitting empty, that I took out a loan for.  It's an investment property that I bought last year.  It needed some work, I had one set of renters that didn't turn out too well for me, and then it needed some more work.  It's now fixed up and ready to go.
The problem is, it's winter.  I mean snow-covered-ground winter.  Daytime-high-of-13-degrees winter.  Nobody wants to move in winter.  Not only that, but I'm also paying to keep the place heated so the pipes don't freeze until I get another renter in it.
My 2012 financial goal is to have that house paid off by the end of the year.  It's totally doable if it's rented out, but as of now, it's not.  I just put a classified ad in 2 different newspapers, so I'm hoping someone calls about it soon.  Time is money, and the more time I go without renters, the more money I'm losing.
Nonetheless, I'm sticking to my goal.  Hopefully my tax return will make up for the lack of rent this month.  Hopefully I'll have a new renter in there by next month.  Hopefully I'll accomplish my goal.
It's a lot of hoping, with some prayers thrown in, too.  It never hurts to hope though.  Hope is what keeps us going.  Hope is what brings our dreams to life.  I'm hanging on to my goal, and I'm hanging on to my hope.  It seems realistic to me, and I do dream of being debt-free.  So, I'm hanging on to my goal and my hope.  In 12 short months, or maybe sooner, I'll see how far my hope has gotten me.
Article by Randi Millward