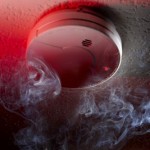 Household fires are very common and right from a faulty electrical circuit to a lit candle; almost anything can cause a fire in your home. Strangely in most cases these fires break out at night and have often resulted in serious damage to property as well as life. Almost anyone's house can catch fire and so almost everyone needs smoke detectors.
Smoke detectors are explained in detail below along with a list of their advantages so as to help you understand why you need smoke detectors:
Need for early detection – It is a fact that a fire if small can easily be extinguished and if the same fire grows large, controlling it can sometimes become impossible. Smoke detectors are the one sure way to know that there is a fire in the house. The one most important advantage of smoke detectors is that they are able to raise an alarm in time for the fire to be controlled and also people to get out of danger. Those who believe that they will be able to know of a fire in the house will find that this is not true. You maybe in one room while a fire breaks out in another room and by the time you learn of it, the entire wing of the house could be burning to high skies. A smoke detector is the one sure shot way to ensure that even a small fire raises an alarm and you are notified of it.
Sleep detection – Since fires often break out at night when people are sleeping and a smoke detector is very crucial in these cases. People falsely believe that the smell of the smoke will wake them up in any case and will alert us of a fire; this is not true at all. In fact if we are sleeping, the smoke will only harm us further by filling the house with poisonous gases that could make us go into a deeper sleep or coma like state. So you could be sleeping while your home burns and this of course spells great danger. The smoke detectors are able to raise an alarm if there is a fire in the house even in cases of electrical fires and the noise is what will wake you up and allow you time to get to safety. There have been several cases where the noise of the smoke detectors has woken up the residents of the house and they managed to douse the fire even without having to call the fire engines.
Away from home – Fires don't always break out when you are at home. You may be out for shopping or gone to work or taking a holiday somewhere and your house may fall prey to a fire. Smoke detectors are very useful in this case. The alarm is loud enough to warn even the neighbors of the fire and they could get help before the situation goes out of hand.
These are only a few reasons why we should have smoke detectors in our house. Treat a smoke detector as necessity for it is one and a necessity that can save your life and your home from fire.