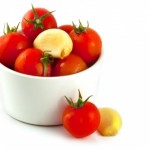 I make practically everything that I can homemade. Cleaning products, food, hygiene items. If I had much of a sewing ability, I'd probably try my hand at making my kids' clothes, too! I make things homemade because it's healthier, but it also usually saves me a lot of money, too. Usually, but not always.
Yesterday, I made homemade laundry detergent, yogurt, and ketchup. The laundry detergent was a definite money-saver. The yogurt was, too. The ketchup, however, was not.
I'm pretty happy with the ketchup I currently buy, but I was running low, so I thought I'd give homemade a try. I got out a big mixing bowl, all of the ingredients, measuring cups, and a whisk. I measured, dumped, measured, dumped, and repeated until all of the ingredients were in the bowl. Then I whisked all of the ingredients together…
They barely covered the bottom of the bowl. Really, I bought expensive spices for this? Apparently so. Yes, I could've quadrupled the recipe, but the outcome would've been the same: disappointment in the small yield compared to the money spent on ingredients.
Doing a price comparison, I spent about the same amount of money on ingredients to make about 12 ounces of ketchup as I spend on a 24-ounce bottle of ketchup in the store. The quality of ingredients doesn't matter either. I made organic ketchup using organic ingredients, and it was more expensive than buying organic ketchup. If you made conventional ketchup using conventional ingredients, it would be more expensive than buying a bottle of conventional ketchup.
I'm not saying there's no benefit to homemade though. Making homemade ketchup can help you avoid the plastic chemicals that can leach into a bottle of store-bought ketchup in a plastic bottle, and you can't put a price tag on good health, but you can out a price tag on a bottle of ketchup – one that is less than the amount you'd spend on ingredients to make it.
I'm a big fan of all things homemade, but if you're making things homemade to save money rather than for your health, you may want to do some price comparisons to see whether it's more cost-effective to buy or make.
Article by Randi Millward