When was the last time you went on a date and felt beautiful? I mean red heels, little black dress, hair done perfectly beautiful? Why is it that single mom's think they have to look more like a "mom" even on dates?! I see single moms go on dates looking the exact same as they do every day because according to them they "didn't have time or energy to put into it". Okay, so maybe you don't have hours before a date to make sure every hair is perfectly placed and your heels are broken in so you don't embarrass yourself by tripping because the kids need bathed, fed, tamed and whatever else before the babysitter shows up. Maybe you're no longer comfortable walking through the grocery store showing a little cleavage because instead of a bottle of wine in your free hand you're holding the delicate hand of a child but guess what? That's no excuse! You are a woman, a beautiful woman, single mother or not and you deserve to feel like a sexy beautiful woman when you go on a date.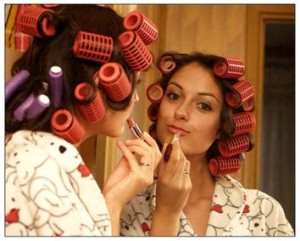 When I go on a date, I like to leave my mom persona at home and put on my feminine and fun woman persona. Not just because I want to impress him but because I don't ever want to stop being a woman and feeling that "Cinderella just walked into the ballroom and everyone's in awe" feeling. It's not just about looking physically beautiful either. When you put on a pair of sexy high heels and own your strut, a very feminine essence comes to life inside of you. That essence that is so natural is a part of who you are as a woman but so many times it gets neglected as soon as we become mothers because we feel we should look more like "moms" or we don't have the time and money to spend on getting dolled up. Sure, I could put the $75 I spent on my hair into my son's college savings but I didn't and I don't feel guilty at all (well maybe a little) because while I'm a very busy mother, I'm also a daughter, a sister, an aunt, an animal rights activist, a writer, a student, a Stephen Hawking enthusiast…I'm a woman. Being a mom is probably my favorite role but it's not my only role nor do I want it to be. Being a woman opens a world of exploration and creativity. From the way we know just how to touch a person to comfort them to the way we emphasize the delicate curves of our hips when we walk, being a woman is a gift and one you should enjoy every day.
So if you're one of those women who go on dates not feeling at your most beautiful because your "mom" persona seems to rule all the others, it's time to change it up. Going on a date is your opportunity to get dressed up, put makeup on, spend too much time on your hair and emphasize the feminine goddess that you are. Because when you feel this way, everyone is going to want to be near you, especially your hot date!
You deserve to feel beautiful! You work your little butt off! From getting up before the kids to clean the house to going to staying up well after the kids have gone to bed to do some more cleaning, you work all day! But you can't enjoy life with all work and no play. Remember when you were a little girl and you used to play dress up and how princess like you felt. That's something you should never grow out of! It's part of taking care of you. You deserve a night here and there to get dressed up, feel beautiful and remind yourself that you are a woman just as much as you are a mother.
Not a fashionista? No problem! I have absolutely no fashion sense but I do know what will inspire me when I see a certain style completely put together. The internet is full of renowned stylists, makeup artists, and professional celebrity hairstylists right at your fingertips. So get on your computer and search for inspiration. My favorite "go to" is Pinterest! I love to get on Pinterest and search "date night" styles and other key words and when I do find something, I can usually get even more info on where to buy it. I'll even give you some help! Follow my "styles" Pinterest board and see all the inspirations I've found at https://www.pinterest.com/kristinacasto07/style/. Save the pics and tips that inspire you and go shopping!
Turn shopping into mommy and daughter time. For those of you with daughters who are old enough to start understanding that shopping is a rite for us women, believe it or not. Maybe it's their lack of inhibition but these little geniuses actually have some fashion sense! I discovered this one day when I had to find a dress for a work party and was in a rush so I took my daughter with me. I was at a loss for ideas on what to get and my daughter was running around oohing and aweing at all the dresses. When she started to grab a few off of the rack, instead of telling her to put them back I quietly watched to see what she was going to do. Not only did she excitedly run back to me with the "needle in a haystack" that I'd been looking for but she even managed to snag my size! Since that day, I've hired her as my new personal shopper. Not only do I enjoy shopping with her but I love to see the satisfaction on her little face when I put it on and ask her how I look.
Hire a personal stylist. Now I know you're probably not Oprah Winfrey with a plethora of handpicked personal stylists but personal styling through web based companies is the latest and greatest thing! You go online; answer some questions on your personal style and every month you get a shipment of pieces hand-picked for you based on your style preferences. You keep and pay for what you like and ship back the ones you don't like. This cuts out hours spent on shopping and you make sure that you always have something date worthy in your closet! Want to try it? Go to my fave Stitch fix at https://www.stitchfix.com/ .
Own your walk! Ever notice when you feel great, the way you walk is different than when you don't feel great? Your walk says a lot and when you go on that hot date, you want to say whatever vibe it is you want to put out with confidence. There are two things that can get you there. First, what shoes make you feel good? Shoes are always where I start when deciding what to wear because if I feel good in my shoes, it shows! So what makes you feel great? Flats, delicate sandals with a little heel, 6 ' stilettos, black thigh high boots with metal spikes coming out of them? Whatever shoes you feel good in, that's what you should wear! Second, walk like a lady. Ever watch the models walk down a runway at a fashion show? They walk with grace, elegance and confidence and it's much easier than you'd think. All you have to remember is to keep your shoulders back and relaxed and your hips slightly forward when you walk. I always try to portray grace and when I walk. Not only does it make you feel more feminine but it makes you more approachable which will definitely catch his attention.
Meditate. Women, at our most natural state of being are very peaceful and relaxed. When you are connected to your most natural self, you feel more beautiful on the inside and feminine because you're not stressed out and consumed by your thoughts. I used to think mediation wasn't for me until I tried it! I discovered how incredibly beautiful it makes me feel on the inside because it leaves me relaxed, open to love and in touch with my femininity. So I highly recommend it if you don't already do it. It's a great stress reliever before a date. Don't know where to start? Try Oprah and Deepaks free 21 day meditation experience when you register here https://chopracentermeditation.com/ . I promise that you won't regret it!
Take compliments with gratitude. A lot of times when women are told they look beautiful, they'll hand it right back saying something like "You really think so? I didn't have any time to get ready". Don't do this! Even if your compliment-er is lying, smile and say thank you. When you take a compliment gracefully, it sparks gratitude in you. Gratitude is being aware of and thank full for the good things in your life. The more you practice it, the more confident and happy you will be.
Date night is your night. This special night is all about you! You deserve to feel spoiled, beautiful, appreciated and like any man should feel lucky to be in your company. So make the night more memorable by making sure that every time you look in the mirror, you smile with excitement because you feel beautiful not only inside but outside as well.
Written by Kristy Casto
If you liked the post and want more, vist her blog