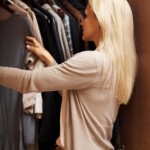 When returning to the dating world again, single moms often tend to worry about what they should wear. They usually do not want to come across as too revealing and at the same time would not want to give out a stiff aura. Also since in most cases it has been a while since the lady stepped out for a date, the apprehension is even stronger. There is no denying the fact that dressing up is an important part of planning a date and should be given its due thought.
Below are some tips that will help you dress right for your date depending on your personal style:
Dress to look good not fashionable – A mistake that is very commonly made when single moms step back into the dating world is dressing to prove that they are aware of the latest in the fashion industry. This can sometimes backfire on them very badly with the outfit not looking good and the date wondering if you have some issues about proving yourself. When you choose an outfit, make sure it is one that shows you in a good light. If you have goo collar bones then the outfit should highlight this aspect and if your hips are getting too big then the outfit should camouflage them properly. Do not fall into the trap of picking out something the sales person said was the 'latest in fashion'. Go with clothes that you are comfortable in and know for a fact that they make you look good.
Dress according to venue – You would look silly wearing a ball room gown to the beach or a beach outfit at a dinner party. So when dressing for a date, mind where the date is going to be held. Choose outfits befitting of such a place. You do not want to stand out like a sore thumb on your date and attract useless attention. So if going to a fancy restaurant bring out a nice evening dress and if the date is more a Sunday brunch sort of an affair keep the outfit smart yet casual.
Dress according to your age – Many a times older ladies will try and copy the younger dressing styles and give out a desperate signal. As a single mom, you do not want to do this. Dress according to your age so, as to let the gentleman in question know that you are comfortable with who you are and your age does not bother you. Confident women appeal much more to the men than women who are trying to hide their years and base their dating on the age aspect only.
Dressing right for a date will help you tremendously. How you dress does and will send out a signal and it is important that you are aware of the signal you wish to send out and then dress accordingly. So give what you wear on your date a good amount of thought, especially when the relationship is in its initial stages where the two of you are still getting to know each other.