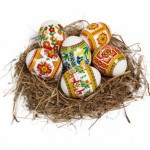 It was Easter Sunday weekend and my boys had gone to Michigan with their father. This was the first time I had been away from them on a holiday and my heart was heavy with grief. My daughter refused to go and in truth threw a major fit in the front of the house when her father tried to get her in the car. She hated him. He gave up as to not cause any more embarrassment to himself and drove off with the three boys.
For a mother going through a difficult divorce, one of the most challenging things to do is to let the people you love most in the world drive off with the person you hate the most. It tears you up inside like nothing I have ever experienced before. In addition I had lived with years of abuse, and having the courage to get out of that situation only to end up in "this one" was not a good feeling at all.
I must admit however that it was nice to have a break from my three rambunctious boys. The house was quiet for a change.
Amanda had been a witness to much of the dysfunctions that had been her parents' marriage. She had seen her father at his worst, including his inebriated fits of rage towards me. She had lived, like the rest of us, in a constant state of chaos and fear, never knowing when he would lash out.
So now that I had finally rid our home of that horrible situation, Amanda, at the tender age of 10, had decided she wanted nothing more to do with her father. And as a lot of people in that situation do, he blamed me for that. "So be it," I thought.  Amanda had gone a number of times with him, only to be ridiculed and lashed out at for loving her mom. She was locked in her small room at his apartment until she could "learn to get a better attitude". That never happened and eventually her father stopped trying. This was the 1st of my children to stop seeing their father, but eventually all of them made that same choice.
The weekend was nice. Spring was in the air and Amanda and I went to the zoo for the day.
The boys returned Sunday evening, bursting through the door with their arms full of Easter gifts. "Mom, Mom, look at what Grandma  gave us!" Ben yelled. You would have thought it was Christmas the way those boys were carrying on. Amanda's father gave her a nasty look, kissed the boys, and drove off.
While Amanda knew that her father wasn't about to buy her anything, she thought that her grandparents wouldn't leave her out. "What did they get me?" she asked her brothers excitedly, "Where are my gifts?"
The boys looked at her and Nathan said, "Grandma didn't get you anything."
Amanda's face fell and she started to cry uncontrollably. My heart broke as I held my daughter close. "It's okay, it's okay," I whispered as I stroked her long blond hair.
"Grandma said if you think you're too good to come and visit them you don't deserve any presents," Nathan added.
Amanda burst out again in a fresh set of tears. I shuffled the boys upstairs and told them to put their toys away and I walked Amanda over to the couch. We sat there as the tears poured down her face. It is one of the most difficult things a mother can face, to see the pain of rejection in your child's eyes, and hear it in her breathless cries. I truly did not know what to say. My beautiful little girl had been through so much. Way too much for someone so young. In her heart and mind, she was doing the right thing by showing her love and loyalty to her mommy. And she was being punished for it.
"Shhh, it's okay sweetie," I said, "I guess your grandmother is hurt, and instead of trying to understand, she is trying to hurt you back. I'm sorry." More tears streamed down her face. Tears were streaming down mine as well, falling gently on her hair.
"Why are you crying Mommy?" Amanda asked as she looked at me.
"Because I love you with all my being," I told her, "And when you are hurt and sad, I want to take it all away. No one will ever love you more than me."
Those words of love and support seemed to ease the pain in her heart. At least for a moment. But it would be years before the pain of that rejection would leave my little girl's heart. And Amanda never saw her grandparents again after that Easter Sunday.
Recently we found out that her grandmother had passed away. Amanda is grown now, with a child of her own. And when I broke the news to her, I didn't expect the reaction she had. She cried.
I wish there could have been some closure. So often in life we are left with questions. We are left with unresolved hurts and pain. We don't understand why someone does what they do. And we may never know.
Divorce can often be hard, ugly, and raw. And it doesn't always stop at the parents. It can carry over to your extended family as well as in the case of my divorce. I knew I had done the right thing. But I will never forget how my heart broke for my daughter that day. And sometimes all we can do as mothers is hold our children close, and let them cry.
Divorce is so challenging. And we as mothers must so often put our emotions aside in order to support our children. We have to remember that even though we are going through our own pain, our own bitter feelings, we must do it away from our children. Their own feelings of self are directly related to their family and we can very easily overlook that because of our own feelings of anger. We must be the bigger person no matter how hard it is.
I don't really believe that time heals all wounds. Emotional wounds are never fully healed. Time may lessen the intensity of the feeling, but time itself cannot heal.
During that very challenging time I was given a great piece of advice from an older woman who had been through similar situations.
"Have faith, and know that if you are consistent in your love your children will know the truth when it is time for them to know it. You will do more for them with your love and consistency than you could ever do with words."
She was right. I took those words to heart. I stood by my kids, as hard as it was, and I allowed them to figure things out for themselves. It is their right to do so. And it is our obligation as their moms to let them do so.
If your feelings are overwhelming, find someone else to talk to. NEVER take it out on your children. It's not fair to them. And in the long run they will resent you for not allowing them to see things the way they really are.
Written by Debbie Brown