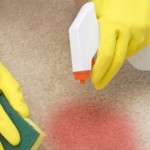 While dusting and cleaning the house is almost an everyday ritual, there are certain items that do not demand constant attention like curtains, carpets, etc. These need not be washed and cleaned everyday, but when they are cleaned they take up a lot of time not to mention effort. If the curtains are thick and double lined, this makes the task all the more tedious and god forbid if the carpet is a large one or for that matter wall to wall. And yet there is no shying away from this cleaning since these
A few tips that can help making this cleaning less tedious are listed below: 
Use specific cleaning products – Instead of using regular cleaning products and detergents, use cleaning products that are specifically designed for carpets and curtains. These products are stronger and are able to go into the thick fabric and pull the dirt out in a single wash. If you use your regular detergent, you may need to wash repeatedly and still find that the stains and dirt did not move much.
Brush often – While cleaning carpets and curtains is not an everyday task, what you can do as an everyday ritual is brush them so as to shake off the dirt. This will ensure that when you do wash the curtain or carpet, it will not be very dirt and the dirt would not have formed a permanent home in the fabric. A simple single wash will be able to leave the carpet clean and fresh.
Attack stains immediately – While washing carpets and curtains one often finds that it is the stains that need repeated scrubbing and yet they don't seem to fade too much. This is because the stain has set into the fiber of the fabric and therefore cannot be removed. If however the stain had be scrubbed immediately, the removal would have been easy. So if you do spill make sure you scrub of as much as you can immediately. Ignoring the stain will not make it go away but instead stick like glue to your carpets and curtains.
•    Vacuum often – There are vacuum machines that are very helpful in pulling off the dirt from the carpets and curtains and you must use these as often as possible. Not only to these cleaners ensure that the dust is sucked off from these items but it also pulls out the dust that has accumulated in regions where your duster cannot reach. If you use the vacuum cleaner on carpets and curtains you will find that they get dirty less often and so you do not need to wash them frequently.
Most dust allergies are triggered off by the dust particles that have found a home in thick fabrics like curtains and carpets and so ignoring their cleanliness is not as option. Keep these tips in mind and you will be able to keep the curtains and carpets of your house spick and span without much bother.
ps