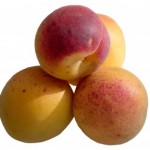 Fresh, canned or frozen—any way you slice them peaches are a nutritious summer delight! Peaches are fat free, high in vitamins A and C, and a good source of lutein (a phytochemical that gives them their red, orange, and yellow color) which is especially beneficial in the prevention of heart disease and cancer.
You can enjoy peaches in a variety of ways:
Slice peaches and add to your favorite cereal or low-fat yogurt
Bake, grill, or broil and serve alongside meat or fish
Freeze a can of peaches (try Del Monte Sliced Peaches) in the freezer then open and blend in a smoothie or sorbet—or enjoy right from the can!
Easy Peach Sorbet
Ingredients:
3 cans (15 oz.) DEL MONTE® Sliced Peaches in Heavy Syrup*
3 Tbsp. fresh lemon juice
1 1/2 tsp. vanilla extract
3/4 tsp. almond extract (optional)
Directions:
Place unopened cans of peaches in freezer until solid (about 24 hours).
Submerge unopened frozen cans in very hot tap water for 1 minute. Open bottom side of cans with can opener. Pour any thawed syrup into food processor bowl. Remove fruit from can; carefully cut into chunks, about 2 inches in size.
Place into food processor with remaining ingredients (blender or mini-processors are not recommended). Process until smooth, scraping blade as needed.
Serve immediately or freeze until ready to serve. Garnish with additional Peach Slices and fresh mint, if desired.