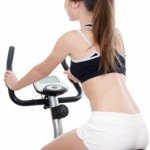 When we think of a healthy lifestyle, we give a lot of attention to a diet plan. Most of us will give up sugars, fats and cut down drastically on our carbohydrate intake as well. While the diet is of course important, we should equally focus on exercise.
Exercise is the cornerstone of healthy living and must not be ignored no matter what age you are, or what your personal body weight is. Let's take a look into some important aspects of an exercise plan and see how they help us achieve our fitness level.
Exercise increases your metabolic rate – One of the most important advantages of exercising is that it helps to increase your metabolic rate. With a higher metabolic rate, you will be able to convert your food into energy faster, we will enjoy higher levels of energy, and weight gain will no longer be a problem. All these advantages can be reaped by following a simple exercise program for five days a week.
Exercise boosts your immunity - When we work out, immune levels rise, and this helps protect against illnesses. People, who exercise, tend to get sick much less often than people who do not exercise. In fact thin people who do not exercise will find that, when they get sick, they are sick longer and feel worse than heavier people who do exercise. No diet plan can boost your immunity more than regular exercise can.
Exercise releases endorphins - Chocolates may be considered happy foods but they come with some serious side effects; acne and weight gain are only few of them. Exercise on the other hand is the best way to fight off depression. In fact it is scientifically proven fact that exercise releases endorphins in our body which is the same hormone that is responsible for happy thoughts. So not only are you able to elevate your mood, you are also able to lose weight and look good in the process. Indeed it is killing two birds with one stone.
Exercise helps increase strength - Another major advantage of exercising is that it helps to increase one's strength quotient. A weak body is not something any of us would like. Exercising regularly helps one to slowly turn into a stronger person physically. So right from everyday chores to better performance in sports activities to even dealing with certain emergency situations, exercise helps in it all.
The advantages of exercising are endless. However, in order to reap these advantages one must learn to balance exercise according to ones age and other such criteria. As we grow older the amount of exercise we need diminishes and a lot of cautions have to be taken in order to prevent injury. This is why it is best to follow a well thought out exercise plan that prevents injury and helps you to get fitter and healthier.