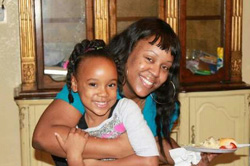 Rhandi'Lynn is February's Kid of the Month
Rhandi'Lynn is 5 years old and she's my little Rock Star.  She's a very active little girl with a lively personality and crazy sense of humor. She enjoys being very girly, watching cartoons, and playing dress up. Everyday it's an adventure with her and she keeps me smiling. When I have my bad days, she knows how to cheer me up by making silly faces, drawing me a pictures of princess characters, or doing her silly dancing. This little girl is my heart and little partner.
"Rhandi mommy loves you very much. I see so much in you and I know as you grow up, so many wonderful things will come your way. Mommy/Mama will always be there my little "Rock $tar" My love for you will be always be unconditional and no one can take that away from you.  Love you always.
Mommy Ashley"