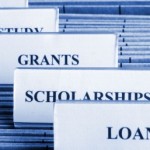 If you have ever spoken to a lawyer or a doctor you know that the big words that they use can be so damn confusing that paying attention to the content gets absolutely impossible. I went through a similar situation when I was looking for financial aid to get my college degree. I got divorced 5 years after my marriage and had a three year old son to care for. My ex was not a graduate either in fact even before my divorce, both of us worked to run the house. There was no money with him to give alimony and the child support provided was just too little.
After my divorce I continued to work as a secretary in a cab booking office, but managing the entire house in my salary was getting to be quiet difficult. I had moved into a smaller house despite the fact that it meant a much loner commute to work, but even then things were not going well for me financially. My marriage was over when we split up and while emotionally I was doing very well and felt free from the burden of carrying around a dead relationship, I was very worried about my financial status. My worry was not at a level where I was wondering if I was saving enough or not, it was at a level when I would worry if I will have enough money to buy groceries for the coming week.
I needed a job that would pay me more or I needed to take up another job along with my present one. Doing two jobs a day would mean that I would barely see my kid at all and since I was the only parent around, it would not go to well. I could pursue higher studies and then plan on taking up a job which would pay me better for the same number of hours that I was putting in at the moment. The problem here was the high fee that is associated with college.
I remember talking to my boss one day about financial aid options if I was to pursue college and the jargon that he used to describe my options was so confusing that it seemed to me like taking a loan for college was going to be tougher than passing college. The only bit I took home from all of his conversation is that a bank may be able to help me with a student loan.
The bank was definitely much easier to understand but the fact that they used a lot of big words and kept altering between various options and used so many abbreviations still kept me in the dark about the student loans. In my pursuit for information on the student grant thing really went south. The colleges are not too clear on what are the options and the fact that the college can change its rule every year makes it even more confusing. So while in some cases the grant is only given to the merit acquiring student, in another you may get a chance at a grant if you have a sports background and in some cases the grant is given to the 'needy' student. Whatever does that even mean?
I was sure that the only way I will be able to get any financial aid for my further studies was if I first invested time into understanding what my options were. Searching on the net was not very easy since there is information there but you have to know what you are looking for and I for one did not know what my options were to begin with so I did not know what to look for. Simply typing student loans was bringing up so much information that the sheer sight of it was scary.
I hit upon http://www.singlemom.com/financial-help-for-education-articles/  during one of my searches and was relieved to find some information on the topic and that to in plain and simple English. Right from what types of loans are available to what criteria the applicant needs to fulfill to even how to apply for the loans and grants all of it was listed here. Simple stuff like what is the difference between a loan and a grant to complicated stuff like how to apply for a PELL the site offers it all.
I got a lot of useful information from the site and armed with it I began to search better on the net. From here on it got easier. I figured out that I would like to study psychology. How I could get a grant and from which college? I did not have collateral to offer but managed a smaller student loan which had a payback system that worked for me.
When it came to confidence I did not have an issue. I knew I will be able to go back and earn a degree. I also knew that when it came to putting in the effort, I was not one to shy away from it. My only problem was the funds and once they were arranged I marched my way into college. I kept my day job and went to an evening college. While the initial six months were a bit hectic and took some getting used to, from then on things have been going well for me.
In another month I will graduate and do have an offer to go back to work with the firm that I did my summer internship with. Things are looking good for me and if I am able to keep my coming job for year, I will be able to pay off my student loan. Once that is done me and my baby both can look at a new and better life and I for one can't wait for it to get started. I agree getting started did take a lot of effort and time too, but once I sorted it all out, it was easy to surge ahead.