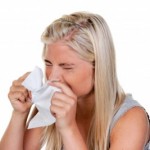 In the last few years doctors have noticed a steady increase in the number of kids and adults who are falling prey to allergies. These allergies mostly strike the nasal passage and can have kids suffering from sneezing bouts like in hay fever or a full blown asthma attack too. While in most cases there are not many cures for allergies, they can be controlled and treated with the right precautionary measures.
Some tips on how you can help fight allergies are listed below:
Stay away from pets – Dog and cat hair is a huge source of allergies and sadly many a times we don't even realize it. If looking to keep allergies out, it is best to say no to pets that are known to shed. Pets like guinea pigs and rabbits are also known to cause allergies and should be avoided at best. In case you do decide to keep a pet, it is crucial to pick those that shed less and are considered hypoallergenic breeds.
Vacuum often - Dust and mites are known to be sources of allergic reactions too. This is why it is important that you vacuum your home well and keep it dust free as far as possible. Pay special attention to carpets, mats and areas behind the large furniture items where the dust may collect. It is important to keep your doors and windows shut and keep a mesh lining on them if opening them for air. Remember, keeping dust out of your home will mean less cleaning and much less allergies also.
Keep pollen out – The pollen season can get very bad for those who suffer from lung allergies and here the trick is to keep as much of the pollen out as possible. Keep a wet towel on your foot mat since a lot of pollen comes in stuck to the soles of the shoes. Apply petroleum jelly on the insides of your nose so that most of the pollen gets stuck to this region. Make sure you keep your windows and doors shut as far as possible so as to prevent the pollen from entering your home in large proportions.
Install dehumidifier – If you live in a humid climate, molds and mildew are common causes of allergies and controlling them can be a huge problem. Installing a dehumidifier keeps the air in the house dryer and therefore prevents these molds from taking over your home. Those living near the sea will find these devices very useful in keeping allergies at bay
While there is medication available to deal with an allergy bout, keeping the tips in mind will keep you away from these allergies to begin with. Remember, even if you are not able to block of dust, pollen etc completely, lessening their entry also helps in keeping the allergy in control. So, if you have someone in the house that has nasal allergies, it will help to keep these tips in mind in order to fight the problem.