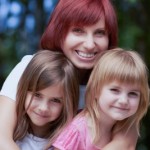 In an age where single parent homes out number the two-parent households, there is a new consensus on what defines the American dream. Many single mothers, whether by choice or not, strive for these five key things for their home. Here is a list of things that most single mothers want and how to get them.
Happy and healthy children are what most mothers want, and as single mothers we are no different except that we feel all the pressure on our own shoulders. Most single mothers ask themselves at one point, "Will my children be okay?" and "why is life so different than I expected?" Just remember the key to having happy, healthy children is to maintain physical, mental, emotional, and spiritual needs. This means having a positive attitude that you are a whole family, a family doctor with regular checkups, open communication and counseling available if needed, outlets for creativity and activity, quality education, mutual respect and acceptance in and out of the home, and quality time. You have something that no two-parent families have—you have the greatest impact on your child because you are the single leader of your home.
Support and friendship are two other things that many single mothers seek out. Many times our families dismiss our decision to single parent as selfish or irresponsible and it is important to communicate your choices and if they don't accept it then it is okay to find support elsewhere. The stigma of single motherhood is gone, and there is a lot of support out there. No longer are the days of only married mothers organizing playgroups and signing up for PTA. Mothers in your community, both single and married, come together in different ways and it is up to you to seek them out with an open mind. Whether it be a church group, parenting group, soccer moms, or a school function other single mothers are out there. Start conversation just like your kids do and friendships can form.
A place to call home is what many single mothers and their children most need. In the event of a separation many times mothers and children are uprooted from their home. Whether this is by choice or not, you need to find a resting place to feel comfortable and make roots. An option that has helped many single mothers is to move back in with parents until you can find an affordable place that meets your needs. For your children and the grandparents this can mean some time to bond; but limiting this time can help your relationship with your parents to not become strained. Many state governments offer low-income housing or adjustable rate mortgages to help single mothers find a home of their home. Apartment living is a great option with playgrounds, a community pool, set rent, and option to relocate if a job opens up elsewhere.
This is what many single mothers desire but put on the back burner or feel it is unattainable with children in the home. Too often we are consumed with daily life to seek out true love. When done with your children's permission, if they are old enough, and in a safe and respectable way, dating can fulfill your needs to have companionship. Don't let being a single parent keep you from dating; many other single parents are seeking to join their family with another family to create a wonderful family unit. The first steps are to let go of the pain of any past relationships, create time to date, don't settle for less than what you desire, and be honest with your date and children.
An identity and purpose is what most single mothers do not know they are looking for so they try to fill a void that they are feeling and come up helpless. Sometimes this comes off as trying to find a career, a need to meet materialistic goals, desperation in finding a partner, lashing out at the children's father, living in the past, or depending too much on the children for emotional needs. Women who are single whether by choice or chance want to be someone to somebody. The important thing to know is that your identity is as a mother, not a single mother, just a beautiful mother with a purpose to raise happy, healthy children. But that is not all that you are—you are what you put into this life. Are you a painter, singer, giver, teacher, businesswomen, or model? Whatever your gifts are, you can use them to form who you are to the world and to the children you are leading. Do not seek your identity or purpose in anyone or anything else but yourself.
The key to remember when single mothering is to know that you can't do it all, but you can do what matters most. Even if you can't attain all these things, know that no one and nothing matters most to your child than you alone.
N.H.