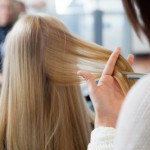 Every year at Thanksgiving, I have my mom take a family photo for us. I use that photo on our Christmas cards. My hair has had a ton of damage for a while now, but I didn't want to spend money on a haircut. Finally, I had to. My split ends were causing tangles and knots, which resulted in more split ends and frizziness.
I always cut my children's hair, but this time my oldest daughter was a bit jealous that I paid ($12) for a haircut for myself but never took her to get a "real" haircut. She's only 5! I can't see paying someone else to do something I can do myself.
Having a "real" haircut became so important to her that I almost gave in and paid for a haircut for her. Thankfully, before I gave in, I found out that JCPenney's gives free haircuts to school-age kids in kindergarten through sixth grade on Sundays. I'll still have to give the stylist a tip, but that'll cost much less than paying for the haircut would have.
So, I made an appointment for my daughter to get her first "real" haircut on Sunday. he's incredibly excited and has been counting down the days. I'm looking forward to it too though because she won't let me touch her hair, and I don't know how she can see through those long bangs in her eyes!
Article by Randi Millward